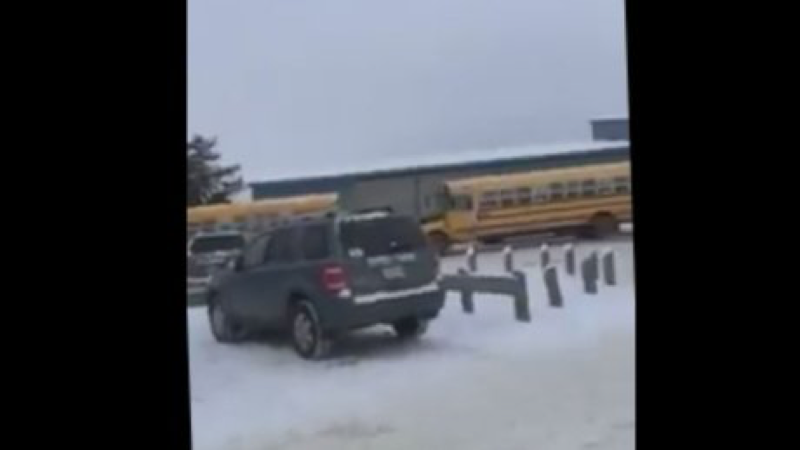 Five people were killed in a school shooting in the northern Saskatchewan community of La Loche, Canadian Prime Minister Justin Trudeau said late Friday.
A suspect is reported to be in custody. Multiple victims are reported to be injured.
"Obviously this is every parent's worst nightmare," Trudeau said in a brief statement from Davos, Switzerland.
The shooting took place in the largely indigenous community of La Loche, population 3,000 or so, at The La Loche Community School, which serves grades 7 to 12.
"The community usually pulls together really strong in times like this. Right now, La Loche is devastated," Clearwater River Dene Nation Chief Teddy Clark told the local newspaper. "Both Clearwater and La Loche, a lot of people are in shock. This is something that you only see on TV most of the time."
"I ran outside the school," Noel Desjarlais, a Grade 10 student at the school, told CBC News. "There was lots of screaming. There was about six, seven shots before I got outside. I believe there was more shots by the time I did get out."
A Facebook post on the school's page described an emergency occurring at the Dene Building of the school. No one is being allowed in or out until further notice is given by the RCMP, according to the post.
From the Saskatoon Star Phoenix:
Acting Mayor Kevin Janvier said RCMP confirmed to him that one person was in custody but he did not know anything about the suspect. According to The Canadian Press, the community's fire chief said a boy with a gun was in custody. CP also reported that a government source confirmed two deaths.

According to Janvier, several people were also taken to hospital.

"It's just tragic and everybody's running around," said Janvier, adding that to his understanding the shooting at the school took place when an individual walked in and "opened fire in the building."
#BREAKING: 5 dead, 2 critically injured in northern Saskatchewan school shooting, PM Justin Trudeau says

— CTV News (@CTVNews) January 22, 2016
#Saskatchewan Premier #BradWall confirms 'shootings' at school in #LaLoche. Offers full support of province, all necessary resources.

— CBC News Alerts (@CBCAlerts) January 22, 2016
Updated: School shooting leaves at least two dead in #LaLoche https://t.co/Zh0RzigPK2 pic.twitter.com/PlRqjQ8cAF

— Metro News Canada (@MetroNewsCanada) January 22, 2016
Desjarlais says there was a lot of screaming.. he heard six of seven shots before he got out of the school. Shooting at La Loche. @CBCAlerts

— Devin Heroux (@Devin_Heroux) January 22, 2016