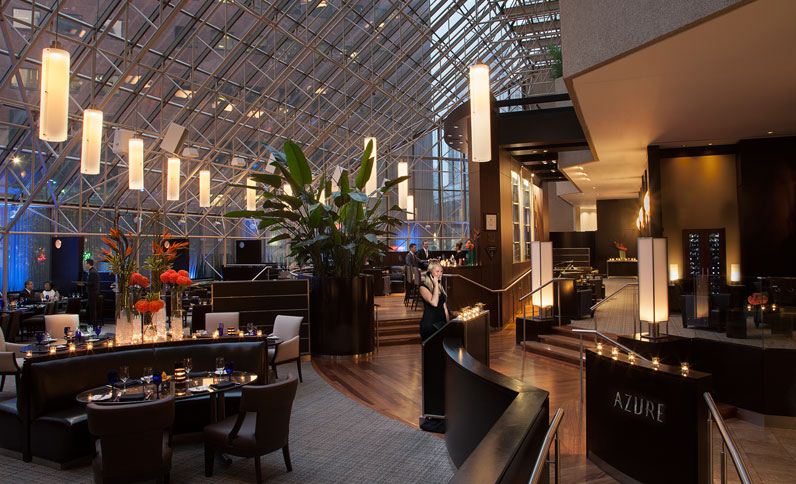 Azure is the posh restaurant Intercontinental Hotel Toronto Centre, where the menu boasts "BC salmon" (which turns out to mean "boned and cleaned" not "British Columbia"), "freshly squeezed" orange juice (comes out of a bottle that boasts that the oranges were freshly squeezed before bottling), and some out-and-out lies, like calling boxed Quaker Harvest Crunch granola "organic granola" and store-bought salad dressing "home made."
The fraud came to light in 2013, when an employee blew the whistle on the restaurant out of outrage at the "thousands of dollars being taken from (the) public pocket by false representation."
The hotel's manager, Alexi Hakim, said that the issue was that the restaurant simply hadn't kept its menu up to date with the ever-changing items from its supplier.
The restaurant has been repeatedly cited for false advertising ("misrepresentation") and has repeatedly promised to make good on things, but has continued to reoffend in ways large and small. As of Oct 2015, the menu had been expunged of all mentions of "homemade," "freshly squeezed," and "local."
A "Wagyu" beef burger contained a fraction of Wagyu, the report shows. And the CFIA also found that a menu item labelled "BC Organic Salmon" did not live up to its name. "The letters 'BC' listed on the restaurant menu descriptions can mislead consumers to believe that the salmon is from British Columbia," the inspector stated after finding no evidence the salmon was from the province. Instead, the inspector noted that the "B/C" on the Toronto supplier invoice may refer to an acronym for "Boned & Cut or Boned & Cleaned."
Additionally, Azure's menu falsely claimed that in preparation of its menu it used the "region's freshest artisan ingredients," when, the inspection report says, "frozen, processed and preserved" products were used to prepare some food items.
Reality didn't always match the menu at Toronto restaurant
[Michele Henry/Toronto Star]


(via Super Punch)
(Image: Azure)