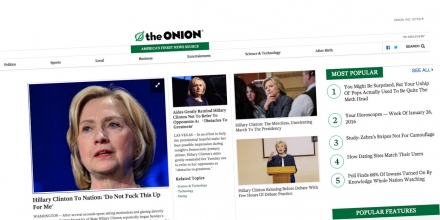 Univision, a hugely successful Spanish language broadcaster, bought humor newspaper/site The Onion two weeks ago, and in so doing, transferred control over a site that has produced scathing comedy at Hillary Clinton's expense to Haim Saban, millionaire financier and Democratic power-broker, who calls Clinton "pristine plus" and "great for the country and great for the world."
Saban has previously made bids for the Los Angeles Times and New York Times.
Saban describes himself as a staunch zionist and partisan for Israel ("I'm a one-issue guy, and my issue is Israel"), which also has implications for The Onion, given its long history of scathing commentary on the Israeli occupation of Palestinian territory and the system of Apartheid enforced by the Israeli state.
The Onion has refused to comment on whether Saban's ownership will influence its editorial policy.
But what's gotten no attention at all is that Haim Saban, Hillary Clinton's biggest fan and financial supporter, is Univision's co-owner, chairman, and CEO. Saban and his wife, Cheryl, are Hillary Clinton's top financial backers, having given $2,046,600 to support her political campaigns and at least $10 million more to the Clinton Foundation, on whose board Cheryl Saban sits. The Sabans are also generous supporters of the overall Democratic Party infrastructure, donating, according to the Center for Responsive Politics, a total of $16.1 million since 1989 to Democratic and liberal candidates, party committees, leadership PACs, and federally focused 527s.

Saban badly wants Hillary Clinton to be elected president this year, vowing to provide "as much as needed" to see it happen, since "she would be great for the country and great for the world," and "on issues I care about, [Clinton] is pristine plus."
Ha Ha: Hillary Clinton's Top Financial Supporter Now Controls "The Onion" [Jon Schwarz/The Intercept]