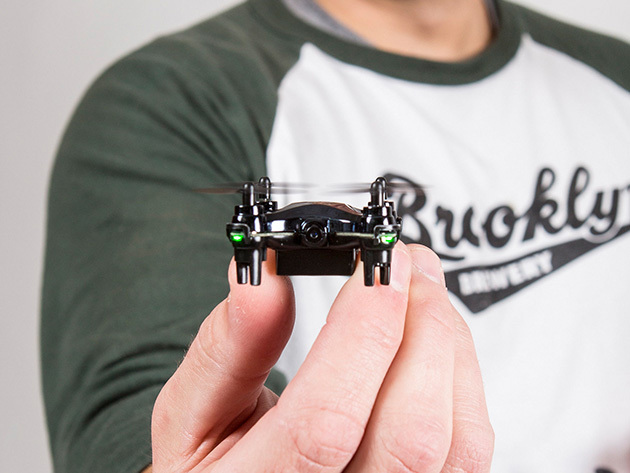 It's 2016 and we like our technology really small. Our phones fit in our pockets, our remotes are lighter than ever, and even our cars seem to be shrinking. So your new drone shouldn't be an exception. This Axis VIDIUS Drone is 21% off right now and it's so little, your biggest problem won't be flying it like a pro, it might just be losing it in your tote bag. Don't waste your time and space with a bulky, FAA-approved drone to lug around town every time you want to fly, this small version has a live video stream with a first person view. And the view is epic up there.
This flier can flip, turn, roll and race through narrow spaces, all controlled by a lightweight 2.4gHz remote. It streams and records live video and still images that shows up right on your smartphone or tablet. It takes just twenty minutes to fully charge up its battery and flies for up to seven minutes at a pop. It's got three speed pre-programmed functionality so you can throttle up or down your flight sensitivity, keeping it stable and centered all the while with its 6-axis gyro stabilization. It rotates 360 degrees and can even fly at night with its bright LED lights.
Once you enter into the pre-programmed trick mode, you can do incredible flips and rolls to capture bananas pictures and videos from up high. It's so small, you don't even need to sweat FAA regulation and you can grab it for 21% off today. The streaming works with Apple or Android devices and the controller is included. Check out the link below for more details and a video of the drone in action.
Save 21% on the Avix VIDIUS FPV-Camera Drone in the Boing Boing Store.