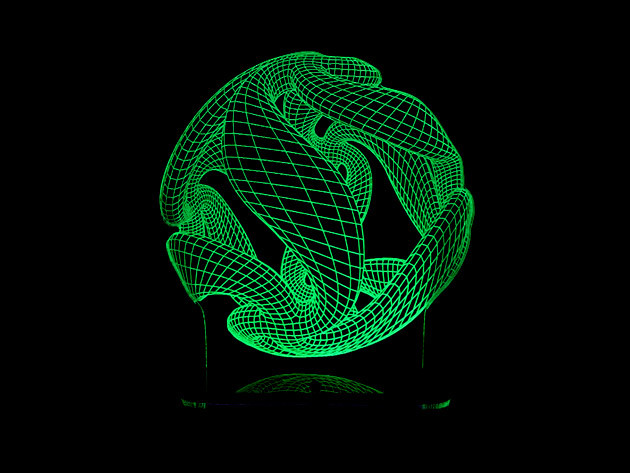 Light used to just be one of two things: on or off. Simple as that. Either a flood of yellow or total darkness. Then the dimmer switch happened and you could adjust the brightness to meet your seductive needs and suddenly everyone looked a little better in the gentler light. And now your luminary universe has evolved for the third time into something completely new and awesome: Blue Pine Studio's 3D-Illusion Lighting Sculpture. For 36% off you can nab one of the sweetest light developments since the invention of candles and have the apartment that everyone will be talking about.
What looks like a flat black box is actually a platform for the three dimensional light display that looks simply mesmerizing. Once it's turned on, the light contorts into incredible shapes like pure artwork that can be set in sixteen different colors and four different modes. Like its predecessor in light history, the dimmer, this too can dull down to set the mood for reading, dancing, drinking or snuggling. You can make all these color and light adjustments using a simple remote control so you never have to leave your couch again, which should be the goal of any awesome product. The LED light has a super long lifespan of over thirty thousand hours of use.
It's lightweight and small enough to go anywhere in your home on any surface. It looks as good in the bedroom as it does in the kitchen or social living room. And there's no question this is a lamp people are going to freak out about. Get it now for 36% off and completely wow your guests when they think you're just turning on the old light switch again. Joke's on them, you're lighting the way to the future.
Take 36% off a 3D-Illusion Lighting Sculpture in the Boing Boing Store