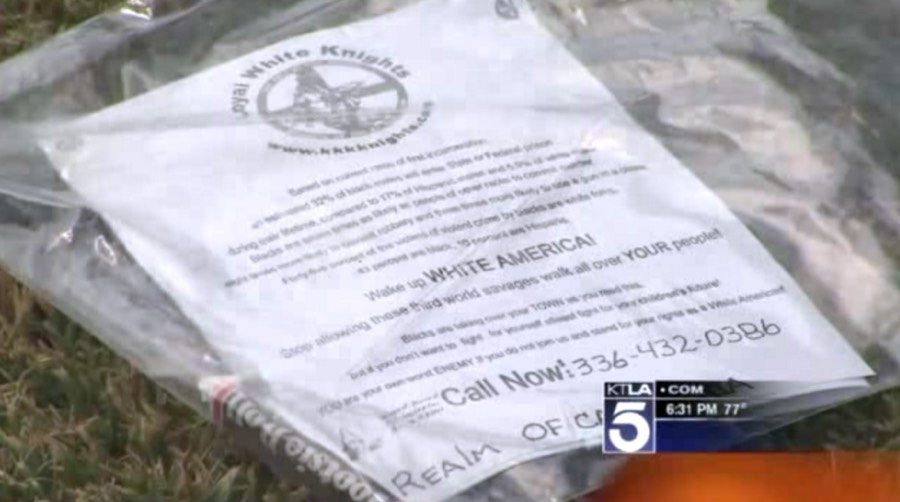 In Anaheim, California, three people were stabbed, one critically, and several others were arrested when a Ku Klux Klan rally erupted in violence.
The Los Angeles Times reports that a "small group of people" claiming to represent the KKK put out the word this week they would hold a rally at Anaheim's Pearson Park at 1:30 p.m. today, Saturday. By 11 a.m. today, several dozen protesters showed up at the park to confront the racists.
About an hour later, several men in black garb with Confederate flag patches arrived and were escorted by police around the edge of the park.

Violence erupted and some of the counter-protesters could be seen kicking a man whose shirt read "Grand Dragon." At some point, a counter-protester collapsed on the ground bleeding, crying that he had been stabbed. A Klansman in handcuffs could be heard telling a police officer that he "stabbed him in self-defense." Several other people were also handcuffed.

Witnesses said the Klansmen used the point of a flagpole as a weapon while fighting with counter-protesters.
And this part of the LA Times report is amazing:
Brian Levin, the director of CSU San Bernardino's Center for the study of hate and extremism, said he was standing next to the man in the Grand Dragon shirt when a crowd of protesters swarmed the Klansmen carrying weapons.

A brawl broke out and one of the Klansmen was knocked to the ground and kicked, and whose arm Levin said he later saw bleeding.

Levin said he pushed the Klan leader away as the violence continued and a protester was stabbed.

Levin said he asked the man, "How do you feel that a Jewish guy just saved your life?"

"Thank you," the man replied, according to Levin.
In related news, The KKK's longtime figurehead this week endorsed Donald Trump for president. As we've reported here previously, Donald Trump's father was probably a KKK supporter or member. Fred Trump, Sr., was reported by the New York Times to have been a participant at a KKK rally in New York in 1927 in which police officers were injured.
Backstory on today's white supremacist shitshow in Anaheim, at the Los Angeles Times: "Planned KKK rally today in Anaheim brings condemnation: 'It's really sad'"
The KKK has a long history in Southern California, as this Associated Press account of today's violence reminds us. Openly self-identified Klansmen held elected office in the Anaheim city government in the 1920s.
In January 2015, packets containing fliers condemning Martin Luther King, Jr. and supporting the Ku Klux Klan were left in the driveways of about 40 homes in Santa Ana, about 8 miles south of Anaheim. The baggies contained a KKK business card, rock and candy.

The fliers opened with the heading, "On Martin Luther King Day, you are celebrating a communist pervert." The bottom of the fliers state they came from the "Loyal White Knights of the Ku Klux Klan."
Today's front page...
Former KKK leader endorses @realDonaldTrump for president https://t.co/Kkd3MhuNtC pic.twitter.com/mYp0HQ0q5M

— New York Daily News (@NYDailyNews) February 26, 2016