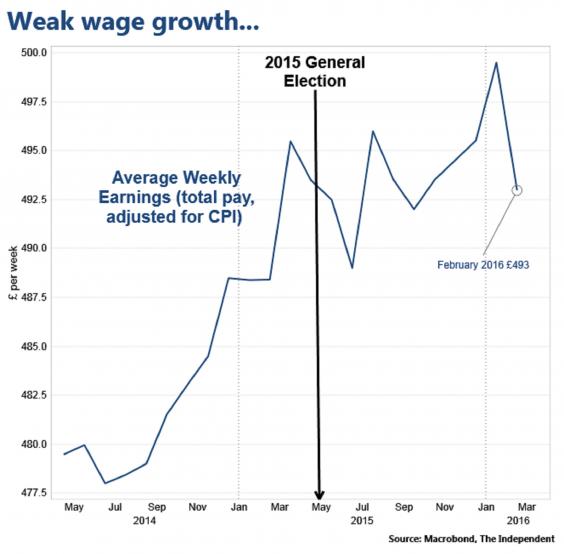 It's been a year since David Cameron's Tories took control of the UK Parliament with a majority that gave their free rein to govern UK, plc to their taste.

It's been a disaster. Growth is down. Unemployment is rising. Productivity is falling. Inflation is up. Wages are stagnant. The stock market is sliding.
The Conservative pitch is that they are the party of business, and in times of economic uncertainty, only they can govern. But when selling off public assets, slashing services, and giving tax breaks to the super rich fails to materialise the promised economic miracle, they move the goalposts, claiming that because of the economic uncertainty, they couldn't have possibly done any better. Then they warn that if they hadn't imposed all this pain on the 99% (and lavished so much treasure on the 1%), things would be so much worse.
Growth in the economy has slowed considerably since last May. The most recent official figures suggest GDP expanded by 0.4 per cent in the first quarter of this year – down from 0.6 per cent in the final quarter of 2015...

David Cameron trumpeted Britain's "jobs miracle" under his leadership in the 2015 election campaign. He has promised further significant employment growth in this Parliament. Unemployment did fall for most of 2015. But in the three months to January it unexpectedly rose again, by 21,000.

Having ignored Britain's terrible productivity performance during the Coalition years David Cameron and George Osborne have begun to talk about the need to tackle it over the past year. But after two quarters of reasonable growth following the election the final quarter of 2015 saw the weakest quarterly productivity performance since the 2008-09 financial crisis, when output per hour fell 1.2 per cent...

When the Tories won the election consumer price inflation was close to zero. The general expectation was that this would not last very long and a recovery in the global oil price would push up prices again back towards the Bank of England's 2 per cent target. But global oil prices have remained extremely weak – and so has UK consumer price growth...

Wages, adjusted for consumer price inflation, were still well below their peak in 2008 at the time of last year's general election. And since then wages in cash terms have grown disappointingly slowly. In February they were just £493 a week, barely any higher in real terms than a year earlier. The Bank of England has suggested that weak consumer inflation is one of the reasons, as employers have bargained employees down in pay settlements by citing subdued rises in the cost of living...
What has happened to the economy under a year of Tory government – in six charts
[Ben Chu/The Independent]


(via Naked Capitalism)