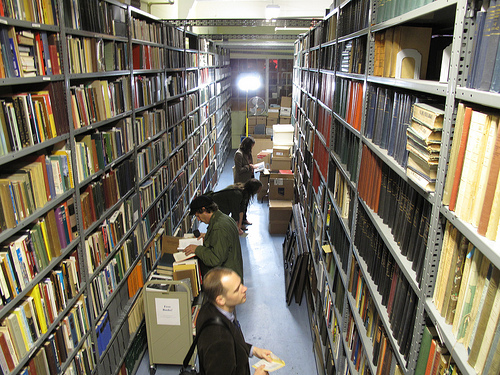 Hero of the Public Domain Rick Prelinger writes, "Many of you know of Prelinger Library, an independent, experimental research library in San Francisco's South of Market district."
The all-volunteer Library is open to all and shares its image-rich collections freely (including 3600 digitized books, periodicals and ephemeral items online at archive.org). We warmly encourage every visitor to scan, photograph and incorporate material from our ever-growing collections into your own work, and we love seeing text and images from the collection propagating throughout the Net.

This is our 13th year of operation, and today we're humbly asking friends and supporters to contribute. Your donations will enable the Library to continue to be a workshop, community hub and resource for artists, writers, researchers, and activists. Your support helps cover rent (still reasonable by San Francisco standards), utilities, archival supplies, and refreshments for volunteers. Please follow the link for details on our budget, how to contribute (tax-deductible) and how to get a copy of our 2015 Library Yearbook. Thanks for reading, and thanks for your kindness!
Support! [Prelinger Library]