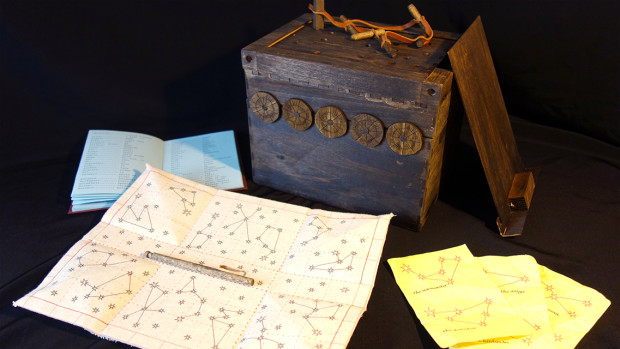 If you're fascinated by paper art and pop-up books, then the name of 51-year old Robert Sabuda will resonate like that of a Zen master. He's a legend in the world of children's books, paper design, and engineering, with many famous books to his credit (my favorites are The Wizard of Oz and Alice in Wonderland).
Kind of like a pop-up book equivalent of The Avengers, Sabuda has embarked on a new adventure in collaboration with Shelby Arnold and Simon Arizpe called The Armchair Detective Company. You can also follow them on Facebook.
On Indiegogo they write:
The Armchair Detective Company is a collaborative partnership formed … to design and create Mysterious Cases. The Armchair Detective Company's focus is to make interactive, participatory stories that entertain users with immersive puzzles and tactile 3D objects. Drawing from its founders' collective backgrounds in paper engineering and pop-up books, the Armchair Detective Company aims to bring stories to life in ways that wow readers of all ages with magical and wondrous experiences. Part game, part book, and part interactive adventure, each Mysterious Case contains codes to crack, puzzles to solve, letters to snoop, and boxes within boxes to unlock—all leading to the dramatic conclusion of an intriguing mystery. Mysterious Cases encourage sleuths of all ages to dive into a story and awaken their imaginations!
None of these items exist yet, and are being funded by an Indiegogo campaign. But I'm drooling over them nevertheless, and fervently hoping that you will visit the Indiegogo page and help fund them — and buy them in the process — for the very selfish reason that I want to dive in myself!
The Armchair Detective Company is offering three boxes starting at $95 and going up to $250, each with an increasing amount of goodies. Take a look at the pix!
The Kidnapped Crossworder
The Druids' Catacomb
The Star-Crossed Scientists
You really do need to visit their website and the Indiegogo website to see all the detailed pieces that go into these boxes ... amazing. And they have special higher levels of donation where you can get your name included among the clues. I'm excited ... how about you?