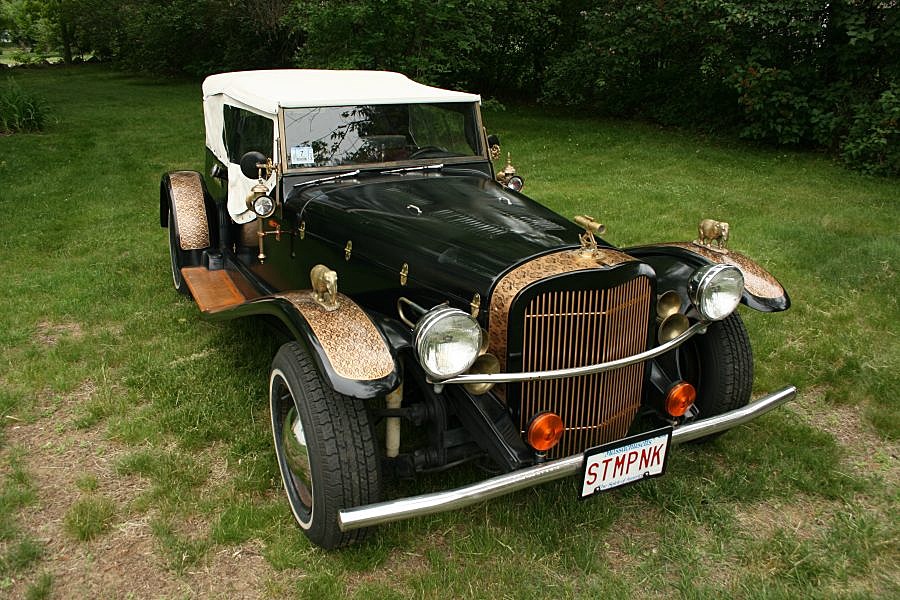 Steampunk pioneer Jake von Slatt sez, "Unbelievably, The Steampunk Workshop will be ten years old in just a few months so it's kind of fitting that I've just completed my biggest and probably my last steampunk mod of my steampunk career. It's a car and it's for sale."
"Now, I'll probably do many more projects that have a steampunk aesthetic, but I'm going to glue a gear on it and say this is that last time I'm going to take a regular item and make it steampunk. I had considered selling the car on eBay but I'd rather offer it to the Steampunk and Burner communities first in the hopes that it will somehow stay in my life without me having to continue to store and maintain it!"
This project started in December of 2007 when I decided that I wanted to build a steam powered vehicle and that a kit car from the 1970's would be the perfect platform on which to build it. I went on eBay and within a short period of time found exactly what I imagined would be the perfect car. I also started researching steam engines for automotive use and learning about boilers and control systems. It didn't take long to come to the realization that the amount of design, experimentation, and fabrication necessary to construct a function steam powerplant was beyond what I could do while I still had a day job. Thus, I decide to resurrect the original VW engine and drive train and make a fun and easy to operate and maintain roadster.
My Last Steampunk Mod – The Steampunk Roadster
[Jake Von Slatt/Steampunk Workshop]