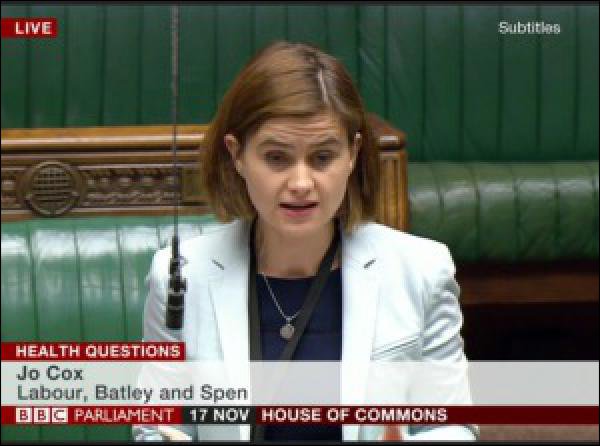 Jo Cox was an outspoken, left-leaning Labour MP who supported the "Remain" side in the upcoming referendum on the UK's membership of the European Union.

Yesterday, a man walked up to her in her home constituency of West Yorkshire and shot her three times with a gun resembling a musket, then stabbed her repeatedly while shouting "Britain first." Britain First is a UK neo-fascist party that supports the "Leave" side in the EU referendum, its name and slogan reminiscent of Trump's "America First" (which was also the name of an American movement that opposed US intervention against the Nazis in Europe).
Cox, who formerly worked for Oxfam, had campaigned for a diverse, tolerant UK, supporting admission for Syrian refugees. Earlier this week, she and her children were hosed down by pro-Leave supporters during a bizarre naval battle on the Thames with duelling Leave and Remain flotillas. She leaves behind a husband and two children, aged 3 and 5.
Thomas Mair, 51, has been arrested for the murder.
The Britain First party says that the murderer was probably just shouting the words because of his patriotism, and not because he was a member of their movement.
The murder is reminiscent of the "self-radicalised" jihadis who hacked Drummer Lee Rigby to death in 2013. The UK press and political classes treated that attack as proof that Islamic extremism was an existential threat to the nation. It remains to be seen whether this latest expression of the rise of the racist right will be treated with the same alarm.
On Thursday afternoon, the leader of Britain First, Paul Golding, condemned the attack on Cox but seized on the account of a single witness who said that it looked to him as if she had not been the target of the gunman but had been shot after intervening in a confrontation between the man who shot her and another man who was also injured. That witness also claimed, incorrectly, that the witnesses who said that they had heard "Britain First" being shouted by the killer had not been named.

"This attack on a public official cannot be viewed in isolation," the Guardian columnist Polly Toynbee argued. "It occurs against a backdrop of an ugly public mood in which we have been told to despise the political class, to distrust those who serve, to dehumanise those with whom we do not readily identify."

British Referendum Campaign Suspended After Killing of Pro-EU Lawmaker Jo Cox
[Robert Mackey/The Intercept]