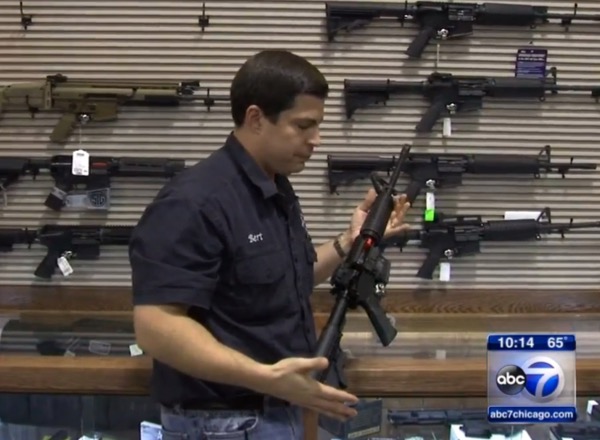 Video screen grab from
ABC 7
"We don't believe this is a gun issue, this is a terrorism issue and this is an act against American citizens," says Bert Irslinger, Jr., owner of Second Amendment Sports, a gun shop in McHenry, Illinois.
Mr. Irslinger says he is going to donate raffle proceeds for an AR-15 semiautomatic rifle raffle to the OneOrlando Fund, plus an extra $2,000, perhaps to compensate for his bad taste.
Omar Mateen, the shooter who killed 49 people in Orlando's Pulse nightclub massacre, did not use an AR-15 in the shooting. Mateen killed his victims with a SIG Sauer MCX semi-automatic rifle and a 9mm Glock 17 semi-automatic pistol. But American fans of military-style assault rifles have wasted no time exploiting the massacre to popularize their weapon of choice.
From ABC 7 Chicago:
Kathleen Larimer of Crystal Lake is also upset. Her son John was among the 12 people shot and killed in the 2012 Colorado movie theater massacre.

"If you lose somebody to drunk driving, you wouldn't raise money by raffling off cases of alcohol. It's just, it's wrong. It's in poor taste," she says.