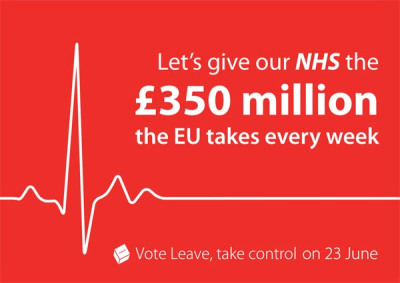 As Conservative grandees jostle each other in the looming contest to become Prime Minister of the UK, we're starting to learn more about their plans for governing UK without the constraint of the European Union's human rights, environmental and labour rules.
It's no surprise that Home Secretary Theresa May has plans to further brutalise migrants: she's the official who filled Britain's streets with signs that urged migrants to leave the UK, after all (fun fact: Theresa May was the inspiration for "Severe Haircut Lady," the villain of my novel Little Brother!).
Exchequer George Osborne's already promised to starve the country's public services by offering corporations the lowest tax-rate of any major economy.
The right-wing thinktank Centre for Policy Studies (CPS) -- hugely influential with the Tory establishment -- has published guidance on taking advantage of the Brexit chaos and the infighting in the Labour Party to "drive through a wide-ranging … revolution on a scale similar to that of the 1980s" that includes "removing unnecessary regulatory burdens on businesses, such as those related to climate directives and investment fund[s]."
It's clear that Brexit's Conservative party leaders were playing a game of thrones within the party for dominance, but they wouldn't have risked the referendum going to the Leave side if they didn't perceive some way to salvage the interests of the finance industry and elites whom they serve. Dismantling climate protection and opening the door to more fracking and North Sea oil exploitation; getting rid of labour protections and safety rules; and allowing the finance industry to operate with even more secrecy and corruption are all possible "upsides" to the Brexit vote for the richest people in the UK, and the richest investors in UK assets.
"If you break it, you own it" is an adage in the United States (propagated by a country-wide pottery retail chain). The right wing of the Tory party has broken Britain's relationship with the entire world. Its objective now is to own the process of reconstructing that relationship.

As Andy Beckett pointed out in the Guardian on Friday, within minutes of the BBC declaring victory for Brexit, the free-market thinktank the Centre for Policy Studies (CPS) revealed the plan B that has otherwise remained hidden from view. "The weakness of the Labour party and the resolution of the EU question have created a unique political opportunity to drive through a wide-ranging … revolution on a scale similar to that of the 1980s … This must include removing unnecessary regulatory burdens on businesses, such as those related to climate directives and investment fund[s]."
Disaster capitalism: the shocking doctrine Tories can't wait to unleash
[Howard Hotson/The Guardian]