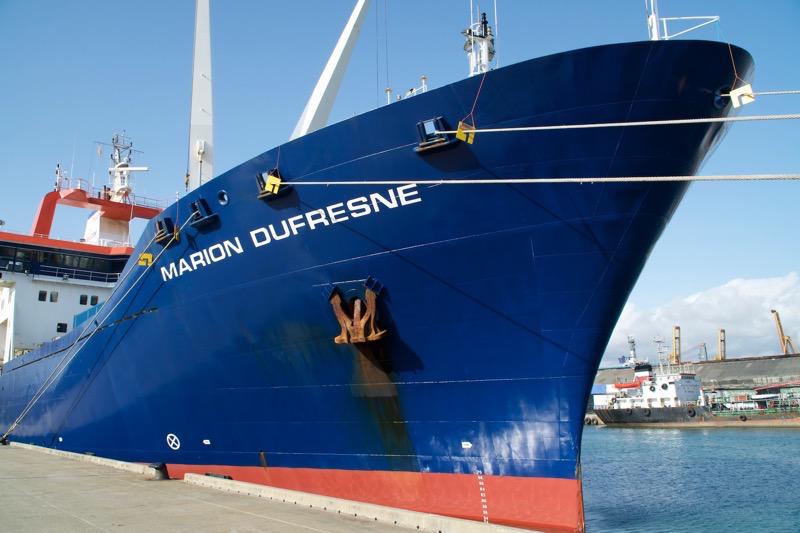 At 120 meters long, the Marion Dufresne is the largest research vessel in the French fleet. Here it is at the dock in Colombo, Sri Lanka, where our voyage began.
On April 11, 2012, a magnitude-8.6 earthquake, followed a few hours later by a magnitude-8.2, struck the Wharton Basin, which lies approximately five kilometers below the surface of the Indian Ocean, and some 500 kilometers southwest of the tip of Sumatra. Unlike the magnitude 9.2 earthquake of 2004, whose epicenter was in the volatile subduction zone just off the western coast of Sumatra, the Great Earthquake of 2012, as it's come to be called, did not trigger devastating tsunamis resulting in the loss of thousands of lives. That may be because its epicenter was well within the Indo-Australian plate, at a depth of 50 kilometers. Even so, the Great Earthquake of 2012 is of keen interest to scientists—at magnitude-8.6, it is the largest intraplate earthquake ever recorded.
During the month of July, I get to accompany an international group of scientists and students on an expedition dubbed MIRAGE, which stands for "Marine Investigation of the Rupture Anatomy of the 2012 Great Earthquake." Composed of representatives from the Institut de Physique du Globe de Paris (IPGP), the Indonesian Institute of Sciences (LIPI), and the Earth Observatory of Singapore (EOS), the group's collective task is to acquire bathymetry (i.e., to map the seafloor and its sub-surface) in the section of the Wharton Basin directly above and around the epicenter of the 2012 magnitude-8.6 earthquake. My job is to write about their work for EOS's blog. #MIRAGEcruise.
I'll also be posting at Boing Boing from time to time, to give this site's readers a heads up on what's been posted at EOS, as well as to share some of my photos and impressions of the trip. For example, yes, if you must know, I did get seasick the first morning and afternoon, but it's been smooth sailing ever since. Also, we've been told to keep an eye out for pirates, but I have to say that compared to the noisy hype leading up to the nominating conventions and being bombarded by Donald's bombast 24/7, a potential pirate attack is preferable. And that's my first impression of being out here in the middle of the Indian Ocean: A month ago, like just about everybody else I know in the States, I was consumed by each fresh outrage, each new poll. Over the last few days, though, I'm up at dawn to watch the sunrise, and back up on "I" deck to watch it go down. That may get old as the weeks wear on, but right now it's difficult to imagine how…
To follow the progress of MIRAGE, visit the EOS blog. #MIRAGEcruise
the inside of a sardine can, but it is actually quite spacious and comfortable.[/caption]