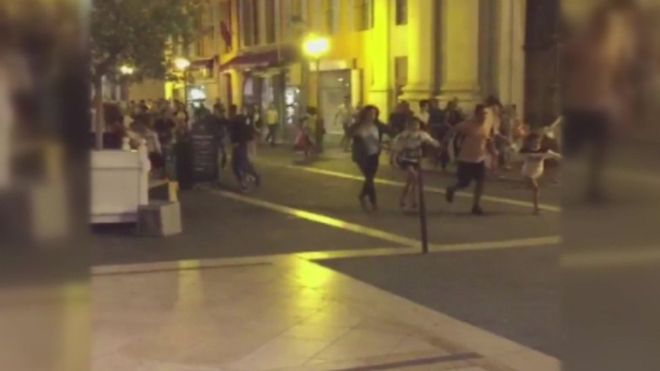 Nice, France: Social media video showed people fleeing after the incident
A truck crashed into a crowd of people in Nice, France, leaving an unknown number of people dead and many others injured. Authorities are calling it an act of terrorism, and treating it as an active attack. [UPDATE, Fri 8am PT] "At least" 84 people are confirmed dead, with scores more injured. Among the dead are children. It is the third major attack in France in less than 18 months.
A local Nice Matin journalist on the scene reported: "People ran, there was panic. He drove onto the promenade and ploughed into the crowd. There is a huge amount of blood and without doubt a lot of people have been hurt."
Sébastien Humbert, sub-prefect of the Alpes-Maritimes department, told French network BFMTV: "There are several dozen dead. The total is very high, thirty dead. Maybe 100 wounded.
Mayor Christian Estrosi, who was present at the Bastille Day festivities when it happened, tweeted: "Dear people of Nice, the driver of a truck seems to have left dozens dead. Stay for now in your home. More info to come."
From coverage at BBC News:
The incident took place on the famous Promenade des Anglais during a firework display, media reports say.One image on Twitter showed about a dozen people lying on the street, some being tended to. The local prefecture has urged people in the area to remain indoors, calling the incident "an attack".
France's BFM TV News said local authorities are treating the incident as an attack. Almost exactly 8 months ago, ISIS / Daesh militants killed 130 people on a Friday night in Paris, in November 2015.
One image circulating on social media showed a white truck with damage to its front end, stopped in the middle of the promenade, and four police officers observing the vehicle while taking cover behind a palm tree.
Cher niçois, le chauffeur d'un camion semble avoir fait des dizaines de morts. Restez pour le moment à votre domicile. Plus d'infos à venir

— Christian Estrosi (@cestrosi) July 14, 2016
Nice Matin newspaper's reporter on scene witnessed "a lot of blood and without doubt many injured".
Said a reporter with Agence France-Presse: "We saw people hit and bits of debris flying around."
On BFM TV in France, an eyewitness said, "Everyone was calling run, run, run there's an attack run, run, run. We heard some shots. We thought they were fireworks because it's the 14th of July. There was great panic. We were running too because we didn't want to stick around and we went into a hotel to get to safety. "
CNN quoted an American witness as saying he saw one person in the truck, a tractor trailer, and heard gunfire, although it was not clear whether it came from the driver or was being fired at the vehicle.

The witness said the driver accelerated as he was mowing people down.
#Nice06 Emergency operation in progress. Keep calm and avoid downtown area. Follow the official accounts to be informed.

— GendarmerieNationale (@Gendarmerie) July 14, 2016