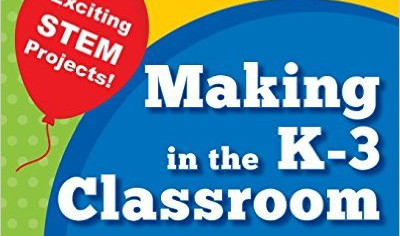 John Scott Tynes writes, "Alice Baggett is a third-grade technology teacher at Seattle Country Day School. She wrote this awesome guide for teachers of kindergarten through third grade to incorporate maker thinking and STEM projects into their classrooms. She loves supporting kids becoming creators, not just consumers, of technology and engineering. It would make a lovely gift for a teacher in your life!"

In this full-color book loaded with photos, Alice provides ideas, resources, and practical advice about learning space design, plus gathering materials and doing more with less. STEM curriculum objectives and connections combine with inventive open-ended challenges for grades K–3 with programming, electronics, and 3D design.

The rapid changes in technology coupled with Alice's desire to help her young students create and not just consume led her to incorporate as many building challenges within the curriculum as possible. Before long, she had a closet full of motors, LEDs, pom-poms, and googly eyes. Her students consistently wow with their wacky inventions and technological fluency.

This book is aimed at educators of primary school students who want to teach STEM and other subjects in a hands-on, minds-on way that engages and delights. The maker movement is sweeping through schools and the nation, and this book is an essential guidebook for joining in the fun!

THE INVENT TO LEARN GUIDE TO MAKING IN THE K-3 CLASSROOM: WHY, HOW, AND WOW!
[Alice Baggett/Constructing Modern Knowledge Press]