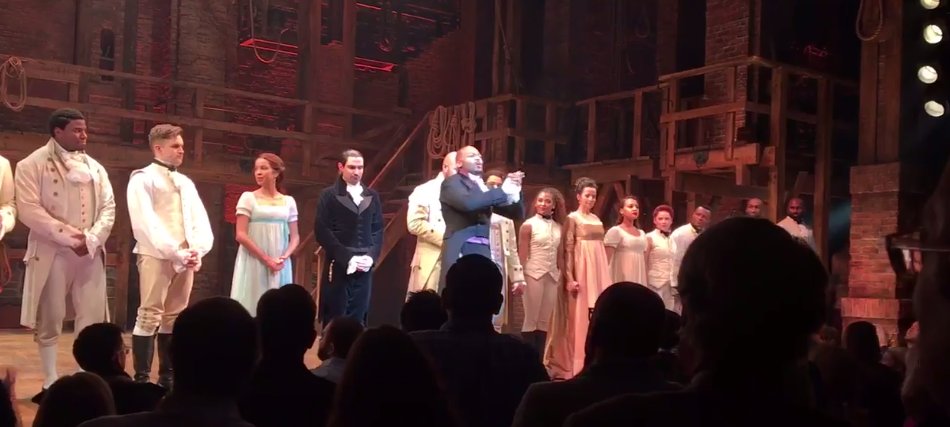 Vice President-elect Mike Pence went to see Hamilton last night; he was booed on the way to his seat, but afterward, the cast acknowledged him with a brief set of remarks written by the show's creator, Lin-Manuel Miranda: "We, sir — we — are the diverse America who are alarmed and anxious that your new administration will not protect us, our planet, our children, our parents, or defend us and uphold our inalienable rights. We truly hope that this show has inspired you to uphold our American values and to work on behalf all of us."

The remarks were delivered by Brandon Victor Dixon, who plays Vice President Aaron Burr in the show. Later, Trump took to Twitter to denounce this mild message in support of American values as "harassment." Trump has not seen the show, but lead producer Jeffrey Seller told the New York Times that the President-elect would be "welcome to attend."
The presence of Pence loomed large during the show, and turned "immigrants, we get the job done" (from the outstanding song Yorktown) into an applause-line that brought the house down and temporarily suspended the show until the cheering died down.
Tonight, VP-Elect Mike Pence attended #HamiltonBway. After the show, @BrandonVDixon delivered the following statement on behalf of the show. pic.twitter.com/Jsg9Q1pMZs

— Hamilton (@HamiltonMusical) November 19, 2016

The statement that Mr. Dixon read was written by the show's creator, Lin-Manuel Miranda, its director, Thomas Kail, and the lead producer, Jeffrey Seller, with input from cast members, Mr. Seller said.

"We had to ask ourselves, how do we cope with this?" Mr. Seller said. "Our cast could barely go on stage the day after the election. The election was painful and crushing to all of us here. We all struggled with what was the appropriate and respectful and proper response. We are honored that Mr. Pence attended the show, and we had to use this opportunity to express our feelings."
Mike Pence Saw 'Hamilton.' The Cast Had Something to Say.
[Christopher Mele and Patrick Healy/New York Times]