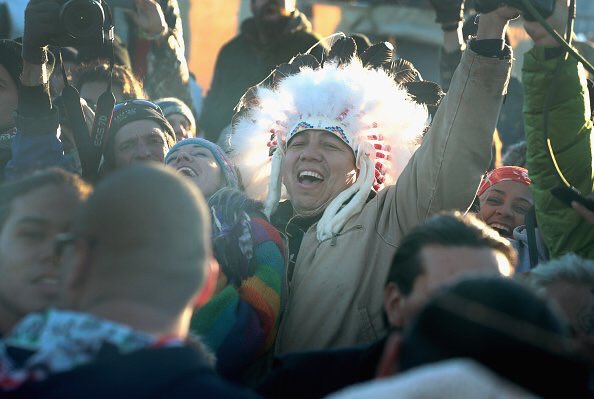 As things stand now, something nearly miraculous has happened: the protesters have won, indigenous people will not be forced at gunpoint to allow a danger to their drinking water that their settler neighbors had rejected, and the pipeline may die. Despite a media blackout and brutal suppression, native people have won an historic and just victory through bravery and humbling perseverance, and that victory has also struck a blow for a world where preventing climate change and preserving our common home takes precedence over enriching the tiny minority of investors in the oil industry.
The oil pipeline is being rerouted! Don't ever let them tell you your voice/protest doesn't matter #NoDAPL #DAPL pic.twitter.com/BcccwCVcE0

— sabreigha (@sabreigha) December 4, 2016
But it's far from over. The Army Corps will apparently research alternate routes for the pipeline, Energy Transfer Partners could sue to repeal the refusal, the Trump administration could reverse the Corps.
The Army wants the water protectors to clear out, but many are digging in to stay and ensure that the decision sticks. At best, this encampment could be the seed of a new post-Trump resistance that fuses the Occupy movement and movements for justice for indigenous people like Idle No More.
But others voiced caution, noting the incoming Republican president and hints that the energy company will appeal the decision. "It's a trick. It's a lie. Until that drill is shut down it's not over yet," said Frank Archambault, a member of the Standing Rock Sioux Tribe who moved his entire family to the encampments in August. "Everybody needs to stay in place."

"We've been lied to and deceived this whole time," he said. "Why should this time be any different?"

"We know DAPL can appeal," said Danny Grassrope, a member of the Lower Bruce Sioux Tribe. "This battle is won but the war isn't over."

Grassrope added that the tribes would not give up either. "We're not done yet. This is just the beginning of something extraordinary."
Standing Rock: US denies key permit for Dakota Access pipeline, a win for tribe
[Julia Carrie Wong/The Guardian]