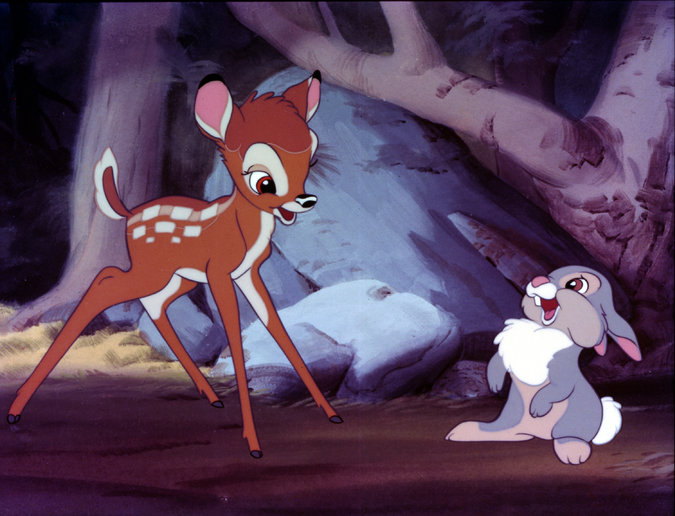 Nagurski writes, "Tyrus Wong was a brilliant Chinese-American artist who designed the look of the landmark 'Bambi' cartoon for Disney. Due to racial attitudes and at the time, he received limited recognition for his contributions, but was belatedly named a Disney Legend in 2001. He also was an accomplished painter and made fantastic kites, which he flew on the Santa Monica beach, continuing to do so past the age of 100."
Note that Wong -- like my own father and grandparents -- was technically an "illegal immigrant" whose only path out of a potentially lethal situation in his birth-country was to emigrate under false pretenses, because official immigration policy offered no navigable path to safety.
When they say that they want to "send back" the "illegal immigrants" who "broke the rules," think of this guy: a child who fled a terrible situation, leaving behind his family, to settle in America and contribute his prodigious talents to this country, enriching the lives of literally millions of people and making the bits of America around him truly great.
Wong Gen Yeo (the name is sometimes Romanized Wong Gaing Yoo) was born on Oct. 25, 1910, in a farming village in Guangdong Province. As a young child, he already exhibited a love of drawing and was encouraged by his father.

In 1920, seeking better economic prospects, Gen Yeo and his father embarked for the United States, leaving his mother and sister behind. Gen Yeo would never see his mother again.

They were obliged to travel under false identities — a state of affairs known among Chinese immigrants as being a "paper son" — in the hope of circumventing the Chinese Exclusion Act of 1882.

Signed into law by President Chester A. Arthur, the act, which drastically curtailed the number of Chinese people allowed to enter the country, was among the earliest United States laws to impose severe restrictions on immigration.

But in 1906, an unforeseen loophole opened in the form of the San Francisco earthquake and fire. Because a huge number of municipal documents, including birth and immigration records, were destroyed, many newly arrived Chinese capitalized on the loss, maintaining that they had been born in San Francisco before the fire.
Tyrus Wong, 'Bambi' Artist Thwarted by Racial Bias, Dies at 106
[Margalit Fox, NYT]
(Thanks, Nagurski!)