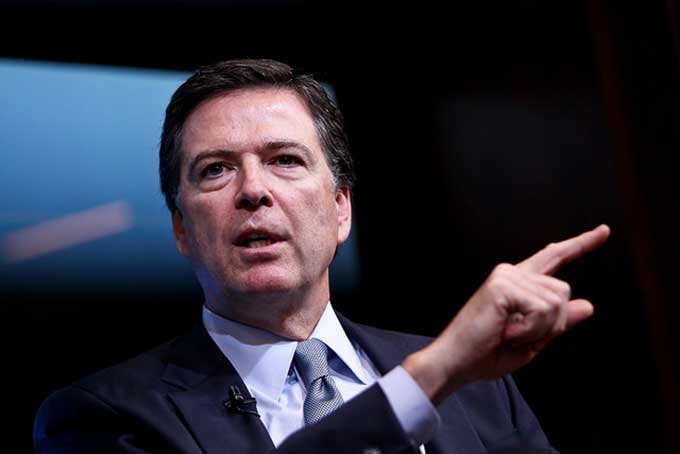 Trump fired FBI director James Comey today, effective immediately.
Comey firing NOT about Hilary and very much about Trump Russia investigation.

— Drew Sullivan (@DrewOCCRP) May 9, 2017
Pres. Trump's firing of FBI Director James Comey is a "grotesque abuse of power," legal analyst Jeffrey Toobin says https://t.co/49ZSr5bsqi pic.twitter.com/PIFInsZ6XI

— CNN (@CNN) May 9, 2017
From NYT:
President Trump has dismissed the director of the F.B.I., James B. Comey, on the recommendation of Attorney General Jeff Sessions, the White House spokesman, Sean Spicer, said Tuesday.
President Trump has previously been critical of Comey, suggesting that his actions helped Hillary Clinton during the campaign, while Clinton blamed Comey and his late announcement about the FBI's investigation into her email server contributed to her electoral college loss.
Here's Trump letter, firing Comey. Here's Sessions' letter to Trump recommending Comey be fired. pic.twitter.com/GxBy31xSsA

— Cyrus Farivar (@cfarivar) May 9, 2017
Firing the guy who is investigating you for a crime is always the best way to prove to everyone that you didn't do it. #Comey #TrumpRussia

— Kaivan Shroff (@KaivanShroff) May 9, 2017
White House statement on the firing of FBI Director James Comey pic.twitter.com/kKez5Kkl7T

— The Daily Show (@TheDailyShow) May 9, 2017
Why fire Comey now? Because what's coming down the pike in FBI investigation against Trump/allies is worse than PR hit Trump will take now.

— Julián Castro (@JulianCastro) May 9, 2017
COMEY FIRED! Dirty, corrupt things afoot. The truth will all come out. The unraveling continues... Hold the election over. Dirty. Corrupt.

— Michael Moore (@MMFlint) May 9, 2017
Image: Brookings Institution