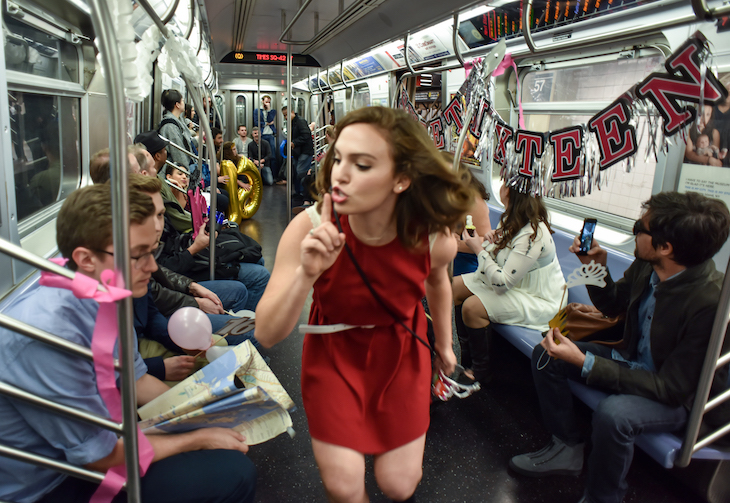 This cute video is circulating which shows a group of people, led by a young woman, who want to throw a very brief birthday party for a friend on a subway car in New York City. The friend is unknowingly being guided into this situation by an accomplice. Banners and balloons, blow-ticklers, sashes, and whatnot, are all prepared in the space of a few minutes (two subway stops) before the birthday girl enters the car and suddenly it's all surprises, hugs, kisses, music, dancing, and cupcakes.
Isn't that heartwarming? Doesn't it just make you feel great about New York.
It's fake. Notice that none of the birthday partiers are older than, say, 25, and they're all so incredibly attractive.
The so-called "friends" in the subway car are actors and actresses who work for a company called Improv Everywhere.
Improv Everywhere is a New York City-based comedy collective that stages unexpected performances in public places. Created in August of 2001 by Charlie Todd, Improv Everywhere aims to surprise and delight random strangers through positive pranks, or "missions."
The director of "theater company," Charlie Todd, writes on their website:
For years the subway has been our favorite performance venue. We've had pizza parties, talk shows, wedding proposals, and even time traveling twins. For each of these projects we create a scene that gives random people the option to say yes and be part of something awesome. If you haven't figured out by now, this was not a real a surprise birthday party. Jenny was an actor along with everyone else in our group. The real intent behind this stunt was to see if we could get an assortment of random commuters to play along. Can strangers in a subway car come together and have a party? The answer, much like it was 15 years ago, is yes!
The bewildered looks on the faces of the actual passengers in the subway car as they're being snookered belie the dual nature of the experience. They're quietly sitting, reading, sleeping, eating. They really only want to get to their destination as soon as possible and get off the train. They're fooled into believing it's someone's birthday, their emotions manipulated, and they join the celebration—and then they're told, "Hey, we were just having some fun. It's nobody's birthday." They've been duped for the purposes of posting the event on social media.
Every single legit subway rider in that car had to sign a legal release allowing the video to be posted online. "We're all going to be in a video!" If you don't believe me, here's a screen grab from one of their earlier subway performances, and the guy with a blurred face is someone who wouldn't sign the release.
Legal release? Everything's cool! Now you know why the old ladies and kids are seen eating the cupcakes. Because what New Yorker would eat food given to them by a stranger? Not one ... unless you sign a legal release and then you're pals.
That's life in the 21st century. 
Photos by Ari Scott.