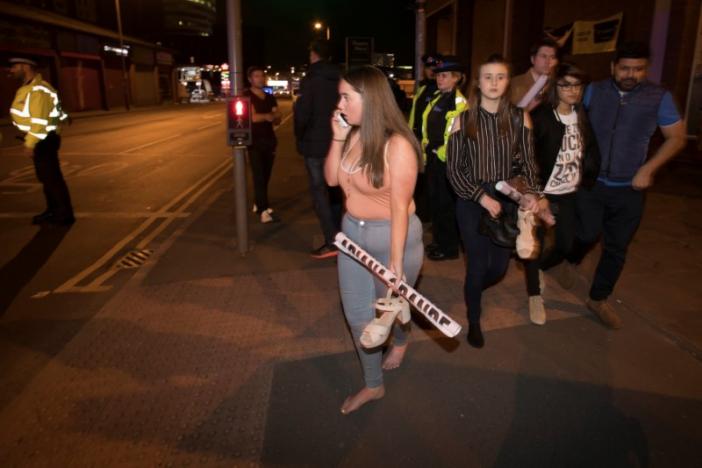 There are reports of one or more 'huge bangs' followed by multiple casualties and injuries and mass panic at an Ariana Grande concert at Manchester Arena in the UK. Police are treating it as a possible terrorism incident, with a suicide bomber suspected. Authorities are setting up a 'casualty bureau,' which suggests a large number of people were killed. Many of the concert-goers were children with their parents.
On BBC World News, an eyewitness reports seeing "twenty or thirty" people on the ground, presumed to have been killed by the blast or the crush to escape. This same eyewitness and others noted that many of the people at the show, and the apparent dead, were teens or younger.
A spokesperson for the singer says she is okay.
Manchester Arena is Europe's largest indoor arena, with seating capacity for 21,000 people, according to the venue website.
Police say the explosion was in the foyer area of the stadium, and are urging people to avoid Manchester Arena and the surrounding area.
Video is circulating online from people who were at the concert. One was taken by taken by a concert goer named Ivo Delgado. He says he heard a bang, saw smoke, and multiple people nearby who were seriously injured.
Eyewitness Karen Ford who called into BBC World News' live broadcast of the breaking news said she heard 'a huge bang... only one' toward the end of the concert, then crowdgoers were crushing one another to get out, 'chaos... a total state of panic.'
I was at the Ariana Grande show in Manchester. When the show had finished there was an explosion, a moment of silence and people started...

— Pop Crave (@PopCrave) May 22, 2017
...running and screaming. It was terrifying. There are now armed police and helicopters at the arena. I'm stuck in the car park & shaken up.

— Pop Crave (@PopCrave) May 22, 2017

Reuters reports:

A blast on Monday night at a concert in the northern English city of Manchester where U.S. singer Ariana Grande had been performing left an unknown number of people dead and injured, police said.



Police said they were responding to reports of an explosion and that there were a number of confirmed casualties and others injured.



"We were making our way out and when we were right by the door there was a massive explosion and everybody was screaming," concert-goer Catherine Macfarlane told Reuters.



"It was a huge explosion -- you could feel it in your chest. It was chaotic. Everybody was running and screaming and just trying to get out."



Manchester Arena, the largest indoor arena in Europe, opened in 1995 and has a capacity for 21,000 people, according to its website. It is a popular concert and sporting venue.



A spokesman for Ariana Grande's record label said that the singer was "okay". A video posted on Twitter showed fans screaming and running out of the venue.



Britain is on its second-highest alert level of "severe" meaning an attack by militants is considered highly likely.