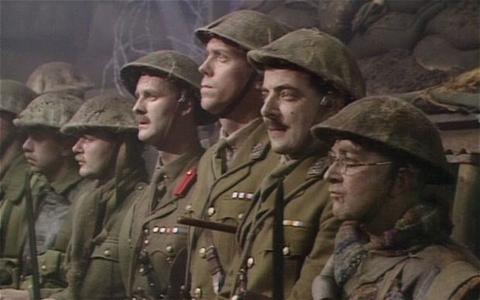 In the wake of the Manchester bombing, UK Prime Minister Theresa May has become the first Prime Minister to activate "Operation Temperer," a previously leaked, secret plan to put up to 5,000 armed soldiers into the streets of Britain, taking over daily security roles from police "such as concerts and sports matches."

There's no reason to believe that the Manchester bombing could have been prevented by the presence of armed soldiers, or that augmenting police numbers with armed soldiers charged with overseeing British civilians in British streets would help them to catch lone wolf bombers.
The Prime Minister said she was doing this to "celebrate those who helped, safe in the knowledge that the terrorists will never win – and our values, our country and our way of life will always prevail."


So: she's doing something that won't stop future attacks and that is literally the mark of a military dictatorship, in order to stop attacks and preserve democratic values.


Checks out. And hey, Trump approves!

On Tuesday night Mrs May chaired a second Cobra meeting with members of her Cabinet and security officials after
 Salman Abedi was named as the suicide bomber.

She also spoke to world leaders, including Donald Trump, who offered their support following the attack.

"The president reassured the Prime Minister that Americans stand with the people of the United Kingdom and that our resolve will never waver in the face of terrorism," his spokesman said.

"He offered American aid in the United Kingdom's investigation and vowed to continue the mutual fight against terrorism."
What is Operation Temperer: Theresa May becomes first PM to deploy up to 5,000 soldiers on streets
[Gordon Rayner/Telegraph]