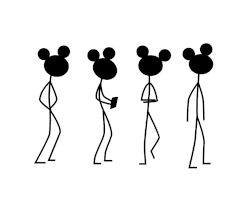 The core advice for minimizing wait time at Disneyland is to focus on off-peak hours (in the morning right after "rope-drop," in the evening before the park closes), but within that envelope, how should you prioritize your riding?

The LA Times uses Disney's data to average out wait times by ride, so that you can judge whether a given line is shorter than average at any moment: in other words, a 23 minute line for the Haunted Mansion is average, so you shouldn't join the line if it's longer than that; meanwhile Indiana Jones averages 44 minutes, so anything shorter than that is a "bargain."
Other good advice: break up your group and use single-rider lines, and plan your visit for an off-peak month and day.
This kind of tactical nous is increasingly important to a Disneyland visit, as queue times have gotten longer year on year and have not (and cannot!) be ameliorated by raising gate-prices or building more showstopper E-Ticket rides: that's just a Red Queen's Race.

"There's another separate line for Dole whip on the other side of the [Enchanted Tiki Room]. Almost no line every time."

"Arriving after 5pm on Sunday is a great way to experience all the best rides with less than 20min wait times. The park stays open until 12 on Sunday's so you can get a ton done! Plus main street stays open until 1am so there's plenty of time to shop afterwards without all the crowds. TIP: Father's Day & Easter are practically ghost towns at Disneyland:)"

"Go on a rainy day. One of those typical rainy Southern California days where it drizzles off and on throughout the course of the day and then clears up at some point. Had a day like that last year, never waited longer than 25 minutes for any ride, and went on the best rides twice. And the rain pretty much cleared up and was gone after about 5 p.m. that day."

Don't waste your time at Disneyland. Here's how to avoid the lines

[Joe Fox, Priya Krishnakumar and Jon Schleuss/LA Times]


(Thanks, Fipi Lele!)