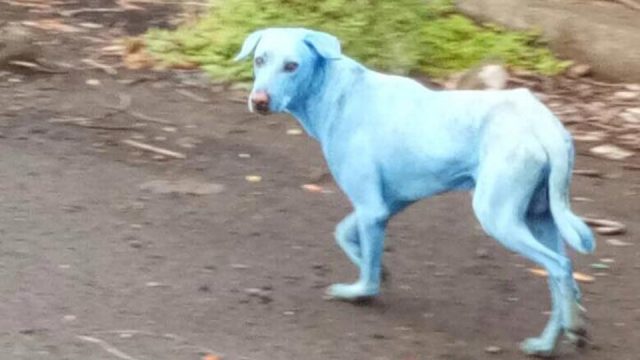 A number of very unusual-looking blue dogs have been spotted in Navi Mumbai, India. Sadly, the cause is industrial waste in the Kasadi river where stray dogs often wade. From the Hindustan Times:


A water quality test at Navi Mumbai Municipal Corporation found the waste treatment was inadequate. The levels of biochemical oxygen demand (BOD) — the concentration of oxygen required to sustain aquatic life — was 80 milligram a litre (mg/L). Levels of chloride, which is toxic, harms vegetation, aquatic life and wildlife, were also high....



"It was shocking to see how the dog's white fur had turned completely blue," said Arati Chauhan, resident of Navi Mumbai, who runs the (Navi Mumbai Animal Protection Cell). "We have spotted almost five such dogs here and have asked the pollution control board to act against such industries."

MPCB officials said they had taken cognisance of the complaint. "Allowing the discharge of dye into any water body is illegal. We will take action against the polluters as they are destroying the environment," said Anil Mohekar, regional officer, MPCB, Navi Mumbai. "We have directed our sub-regional officer to investigate," he added.



Animal rights activists have, however, wondered whether the move comes too late. "We have only spotted blue dogs so far. We do not know if birds, reptiles and other creatures are affected or if they have even died owing to the dye discharged into the air," said Chauhan.