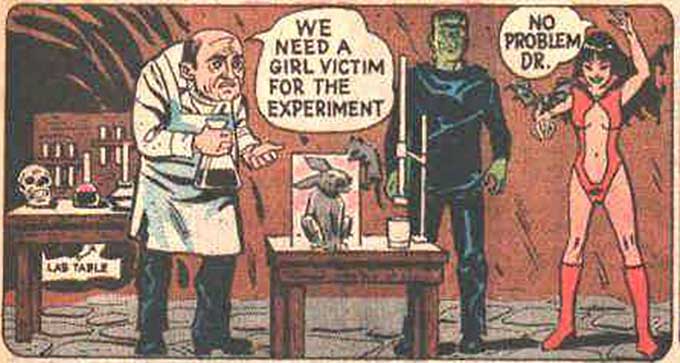 Nabisco really screwed up in 1971 when they bought Aurora, makers of some really cool monster models. The problem was that Aurora also made a series of models called Monster Scenes that encouraged kids to torture a kidnapped "girl victim" by locking her in a cage, burning her with hot coals, and slicing her open with a pendulum.
From Mental Floss:
Unknown to Nabisco, Aurora had recently branched out and begun offering entire model kit dioramas. Instead of a single figure, consumers could buy detailed "sets" for their monsters to interact with. There was a guillotine, a razor-sharp pendulum, and a laboratory; a female protagonist, referred to in the copy as "the Victim," was scantily-clad and ready to be dismembered, beheaded, or trapped in a spiked cage. Kids could also opt to have Vampirella, the top-heavy villain licensed from Warren Publishing, operate the winch and pulley while her plastic captive was shackled to a table.

Each kit also contained a comic, which instructed builders on how to assemble the torture scenes for maximum enjoyment. A narrator named Dr. Deadly seemed to opine on the appeal of the Victim once she was fully assembled. "Now that you've gotten her all together, I think I like the other way. In pieces … yesssss."

In addition to Fig Newtons, Nabisco realized it had also been peddling tiny torture racks.
Images from the book, Aurora Monster Scenes - The Most Controversial Toys of a Generation, by Dennis L. Prince and Andrew P. Yanchus