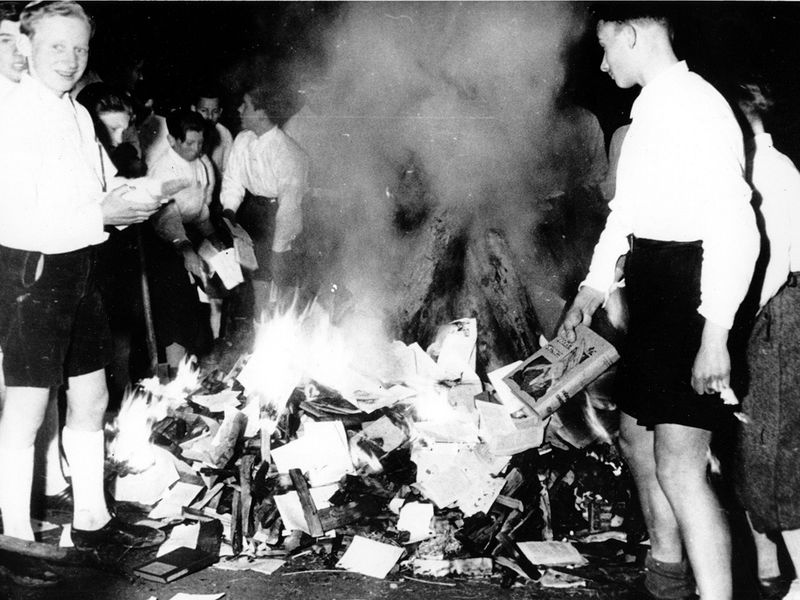 Pissed off and misguided people have been burning books for thousands of years. At Smithsonian, Lorraine Boissoneault provides "A Brief History of Book Burning from the earliest examples on record through the Nazis (above) all the way to, um, the present day. Holy shit, did I really just type that? From Smithsonian:
In 213 B.C., Chinese emperor Qin Shi Huang (more widely remembered for his terracotta army in Xian) ordered a bonfire of books as a way of consolidating power in his new empire. According to historian Lois Mai Chan, "His basic objective was not so much to wipe out these schools of thought completely as to place them under governmental control." Books of poetry, philosophy and history were specifically targeted, so that the new emperor couldn't be compared to more virtuous or successful rulers of the past. Although the exact amount of information lost is unknown, Chan writes that the history genre suffered the greatest loss.



Qin was only one in a long line of ancient rulers who felt threatened enough by the ideas expressed in written form to advocate arson. In Livy's History of Rome, finished in the 1st century A.D., he describes past rulers who ordered books containing the predictions of oracles and details about celebrations like the Bacchanalia be outlawed and burned to prevent disorder and the spread of foreign customs; philosophers Giordano Bruno and Jan Hus both took positions counter to the Catholic church, the former for his work on Copernican cosmology, the latter for attacking church practices like indulgences. Scholar Hans J. Hillerbrand writes that the executioner charged with killing heretics like Bruno and Hus was often the same person who put flame to their books.