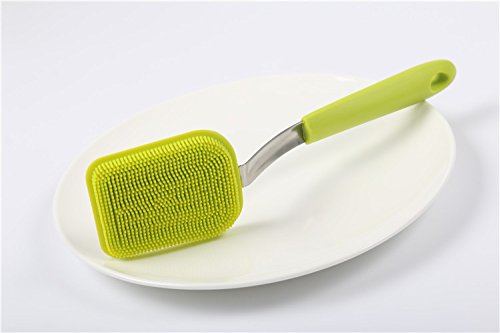 You can throw this silicone dishwand in the dishwasher.
The most popular ad thrown in my face on social media plays on kitchen dish sponge germs. The fear mongers suggest there are bajillions of bacteria and germs in sponges and I must throw them away NOW!
To believe the Internet it can only be a miracle we've survived the last 40 or 50 years of highly toxic commercial artificial cleaning sponges.
Enter the silicone scrubber! I have a set I really like, but I was missing the sponge-based dishwand that I've used for so many, many years. The lever action provided by a handle is invaluable. I needed a silicone scrubber with a handle. Here she is.

Silicone scrubbers encourage you to use less water. To solve the "all the soap washes off" conundrum I simply fill a dish with hot soapy water. I do not run the sink nearly as much, and I'm not frustrated by all the soap washing off the silicone tool.
I no longer pine for my Scotchbrite dishwand.
JJMG New Multipurpose Antibacterial Silicone Scrub Scrubber Sponge for Dishwashing, Make up Brush Cleaner (Sponge with Handle) via Amazon