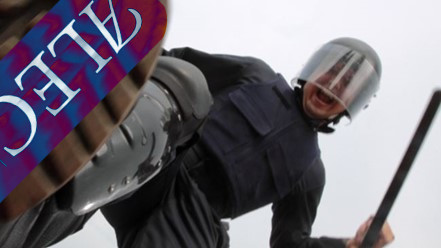 The American Legislative Exchange Council is a big-business-backed think tank whose funders run the gamut from oil companies to Tesla motors; they specialize in drafting insane, racist, voter-suppressing laws and getting them enacted at the state level, primarily by Republican state governments.
At ALEC's latest States & Nation Policy Summit, they voted in favor of a motion to create model legislation providing for prison sentences for protesters who oppose oil pipelines.
ALEC characterizes itself as libertarian, in favor of individual freedom, and opposed to big government.
The ALEC model bill combines the two pieces of Oklahoma legislation by breaking them up into separate sections, one for criminal penalties and another for civil penalties.

Oklahoma's HB 1123 calls for citizens to receive a felony sentencing, $100,000 fine, and/or 10 years in prison if their actions "willfully damage, destroy, vandalize, deface, or tamper with equipment in a critical infrastructure facility."

The ALEC model bill, by comparison, calls for those who "willfully trespass or enter property containing a critical infrastructure facility without permission by the owner of the property or lawful occupant thereof shall, upon conviction, be guilty of a misdemeanor punishable by a fine of not less than {dollar figure}, or by imprisonment in the county jail for a term of {length of time}, or by both such fine and imprisonment."
ALEC, Corporate-Funded Bill Mill, Considers Model State Bill Cracking Down on Pipeline Protesters [Steve Horn/Desmogblog]
(via Naked Capitalism)
(Image: Ron Paul Institute For Peace and Prosperity)