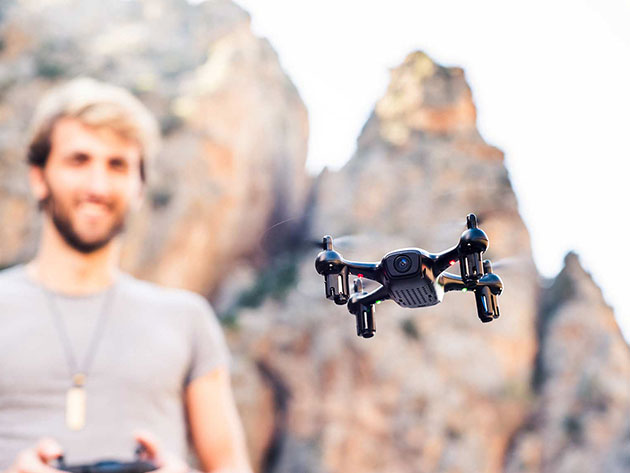 'Tis the season for gift-giving, but sometimes you need a little something for yourself to get through it all in one piece. As such, as a gift to you, you can take an extra 15% off the following items when you enter coupon code GIFTSHOP15 at checkout.
This portable battery pack can charge 3 devices at once, and comes with a built-in connector in case you forget to bring a cable. And If you know you're going to be away from home for a while, it sticks to the back of your device without any adhesive. Usually $80, we carry it for $39.99, and you can save 15% when you use GIFTSHOP15.
This smoking accessory makes both rolling papers and pipes obsolete. It fits 0.5 grams of material at a time, and offers smooth hits through its multiple air chambers, and lets you eject ash with a quick twist of the mouthpiece. Save an extra 15% off our usual $39.99 price with coupon code GIFTSHOP15.
The Guzzle Buddy fits on to a variety of glass bottles, so you can be the classiest person at the next festive gathering. It offers a tight seal, and may be put in the freezer for ice-free chilled beverages. It's normally $19.99 in our store, but GIFTSHOP15 gets you an additional 15% off.
SaberLight Rechargeable Flameless Plasma Beam Lighter: 2-Pack
You can have a weather-proof flame with these SaberLight Plasma Beam Lighters. They're rechargeable over USB, and you can keep 'em in your carry-on luggage without fear of confiscation. A 2-pack typically goes for $29.99 and you can take an extra 15% off with code GIFTSHOP15.
DreamScreen HDTV Backlighting and Total Surround Kits
Make your TV's picture extend past the bezels with a DreamScreen HDTV Backlighting and Total Surround Kit. It works with games, live TV shows, and movies at 60 FPS, and can be used to add ambience for music as well. We've got a kit for 45"-65" TV sets for $154.99, and you can use GIFTSHOP15 to save an additional 15%.
Since it's not always easy to find the perfect wine at the supermarket, Winc delivers hand-selected bottles to your doorstep. Each package comes with tasting notes and food pairing suggestions, so you can impress guests with your newfound sommelier knowledge. Our normal $26 price means you're getting each bottle for about $7, but you can save 15% on top of that with coupon code GIFTSHOP15.
Celebrate the past and future of Star Wars with a 3D Mega Lamp. These custom-fabricated LEDs light up the night with an an eye-catching optical illusion, and are available in a variety of classic shapes like the Millennium Falcon, Darth Vader, and R2-D2. The MSRP is $99, we sell them for $39.99, and you can save an extra 15% off when you enter GIFTSHOP15 at checkout.
The Fader Stealth Drone is capable of recording video in 720p, and beams footage to your device in real time for first-person POV flight. It's got LEDs for nighttime flight, adjustable sensitivity for beginners, and a handful of pre-programmed maneuvers at the press of a button. Save about $10 off our normal $69.99 price with code GIFTSHOP15.