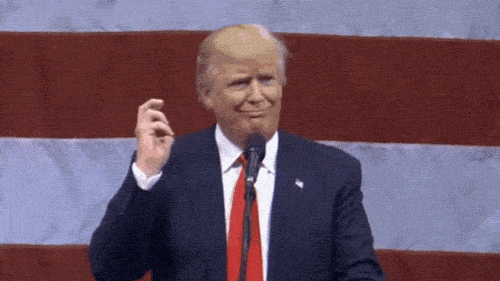 Donald Trump, President of the United States, is apparently rewriting the laws of human biology and procreation now. Yep, he really said this.
"Right now in a number of states the laws allow a baby to be born from his or her mother's womb in the 9th month. It is wrong. It has to change."
No, Donald Trump. But we also know what you meant. That 9 month abortion thing is a falsehood, too.

Remember that time in August, 2016, when at a campaign rally in Ashburn, Virginia, Trump asked a woman who'd brought her crying baby to get out--just moments after he told the crowd the infant's crying was not bothering him because he loved babies?
"Don't worry about it. I love babies. I hear that baby crying, I like it. What a baby. What a beautiful baby. Don't worry, don't worry. The mom's running around like—don't worry about it, you know. It's young and beautiful and healthy and that's what we want."
IMAGE: Donald Trump holds babies at a rally in Colorado Springs, Colorado on July 29, 2016. Photo: Reuters