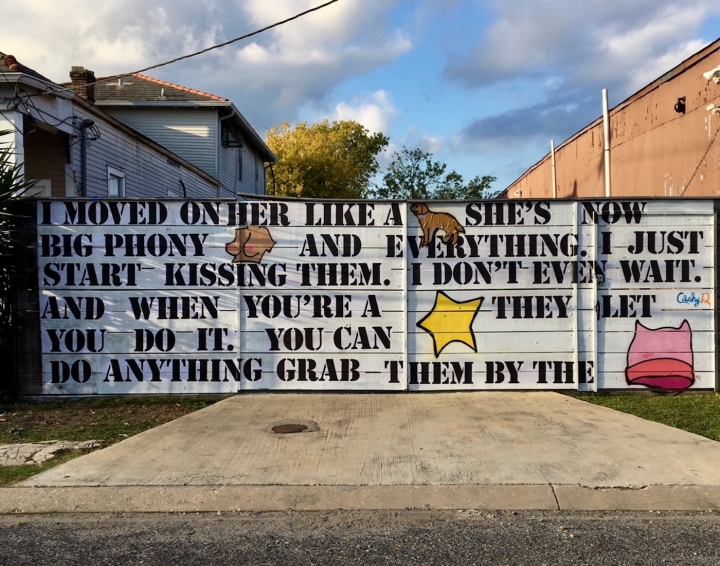 A mural quoting a sexual assault comment made by the President of the United States led to a threat of jail time from the city of New Orleans. Neal Morris, owner of the property and commissioner of the work, got the ACLU involved.
Hyperallergic described what went down after the mural went up in November 2017:
Ten days later, Morris received a letter from the city's Department of Safety and Permits faulting him for not following the proper permit process, demanding the mural's removal, and threatening a "maximum fine or jail time for each and every day the violation continues plus court costs as prescribed by law." Now, the American Civil Liberties Union (ACLU) of Louisiana has filed a lawsuit on behalf of Morris against the City of New Orleans, alleging that it has violated his rights under the First and Fourteenth Amendments.
Read the full ACLU description of the case, which they hope will lead to changes in the laws:
The City Code requires that all proposed murals be subject to "advance review and approval by the board of murals review prior to issuance of a permit." In addition, a mural in a historic district or on a historically designated structure requires approval of the Historic District Landmarks Commission or Vieux Carré Commission before its review by the Design Advisory Committee.

The ACLU of Louisiana argues that the city's permit requirements constitute unconstitutional restrictions on freedom of speech. The lawsuit also asserts that the permit approval process is opaque, selectively enforced, and lacking any clear standards.
• Anti-Trump Mural Sparks ACLU Lawsuit and Public Art Dispute in New Orleans (Hyperallergic)