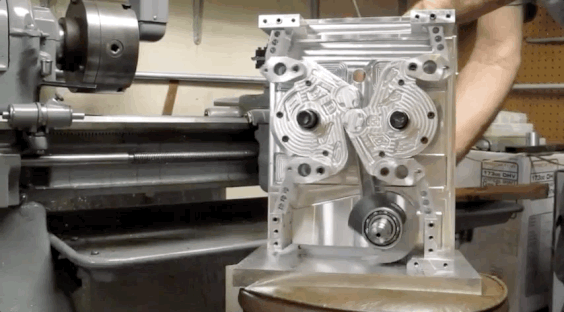 Almost ten years ago, I interviewed Mike Brickley, an inventor who'd designed a new architecture for an internal combustion engine -- one that he predicted would produce 35 per cent less friction than a typical ICE, and 20 per cent better fuel mileage. (Mark blogged about it for Boing Boing back then too.)
Pretty rad specs, if he could pull it off! As I described the design back then ...
In the Brickley Engine — as he calls it — there are no piston skirts and several fewer crankshaft and crankpin bearings. What's more, the cylinders are connected through a pinned joint that rotates a comparatively small amount. The resulting device has a curious, flattened appearance: two sets of pistons face away from each other and punch in opposite directions, joining in the center to drive the engine's shaft.
At any rate, ten years later Brickley has a prototype built, and he's put some videos of it online. That gif above is from this video showing the engine's guts, and the physics of the newfangled pistons; the one below shows it in action ...
Brickley told me that preliminary tests show his predicted efficiencies seem to have been borne out, and I hope he publishes some data on that; it'd be interesting to see where he can take this.