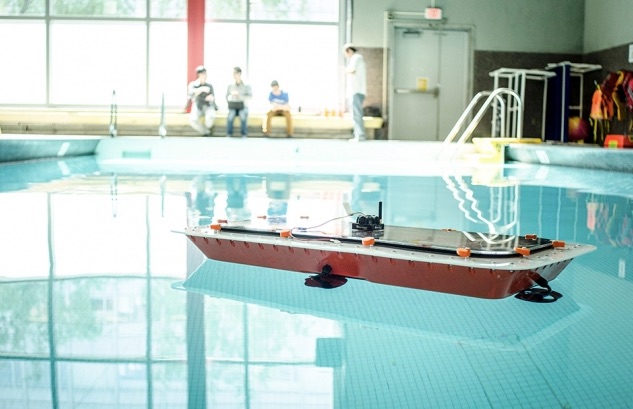 MIT researchers designed and prototyped small, autonomous boats that they think could go a long way to improving urban mobility and reducing traffic in cities with waterways like Amsterdam, Bangkok, and Venice. The 3D-printed hulls are rectangular to enable them to more easily connect with each other. Each side features an independent thruster to increase its agility. From
MIT News
:
"Imagine shifting some of infrastructure services that usually take place during the day on the road — deliveries, garbage management, waste management — to the middle of the night, on the water, using a fleet of autonomous boats," says (MIT Computer Science and Artificial Intelligence Laboratory) director Daniela Rus, co-author on a paper describing the technology that's being presented at this week's IEEE International Conference on Robotics and Automation.

Moreover, the boats — rectangular 4-by-2-meter hulls equipped with sensors, microcontrollers, GPS modules, and other hardware — could be programmed to self-assemble into floating bridges, concert stages, platforms for food markets, and other structures in a matter of hours. "Again, some of the activities that are usually taking place on land, and that cause disturbance in how the city moves, can be done on a temporary basis on the water," says Rus, who is the Andrew and Erna Viterbi Professor of Electrical Engineering and Computer Science.

The boats could also be equipped with environmental sensors to monitor a city's waters and gain insight into urban and human health.