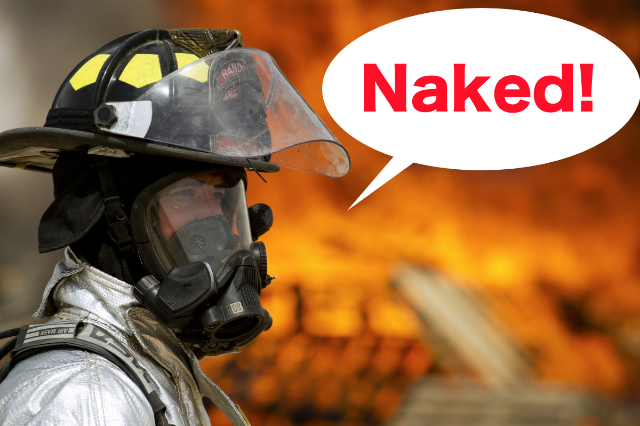 Firefighters sleep together in the same room, eat and risk their lives together. Getting your ya-yas out for all the world to see together? Well, that's not a part of the job. According to the Akron Beacon Journal, a pair of firefighters from Akron, Ohio may have burnt down their careers by making a pornographic video on city property.
Lt. Art Dean and Provisional Lt. Deann Eller were hired by the Akron Fire Department on the same day in the fall of 2000. For 18 years, they served their community with diligence and honor—a fact that's reflected in their work jackets. According to their performance reports, Eller rarely missed a day of work and always displayed a strong work ethic. The same can be said for Dean. Over the years, their careers saw them separated to work at different fire halls in the city. But the time that they spent together allowed for the kindling of a hot personal relationship that may have ended up burning them both.
Opportunities for firefighting puns are few and far between. Let me have this.
After receiving an anonymous tip, City of Akron officials launched an investigation whether the city's next fiscal year should include a larger budget allotment for cleaning supplies: it's alleged that the Dean and Eller were filming pornography in the basement of one of the city's fire halls. Apparently at least one of the videos, which were filmed in a readily identifiable gym located in an Akron fire station, features Eller, working out in the nude.
I don't see the big deal here. After wearing all that protective bunker gear all day, anyone'd want some time where their skin could breathe, right? No? Ok.
From the Akron Beacon Journal:
Chief Clarence Tucker and Mayor Dan Horrigan spoke strongly Monday about how the alleged behavior did not reflect the values of those who serve and save the city from fires. During a news conference called Monday to address the rumors, Tucker said that Eller and Dean could face additional discipline, including dismissal, if an ongoing investigation concludes they broke the city's anti-fraternizing rule for men and women.
While under investigation, Eller and Dean will remain on paid leave, leaving them plenty of time to get their freak on, alleged or otherwise.
Image via PxHere