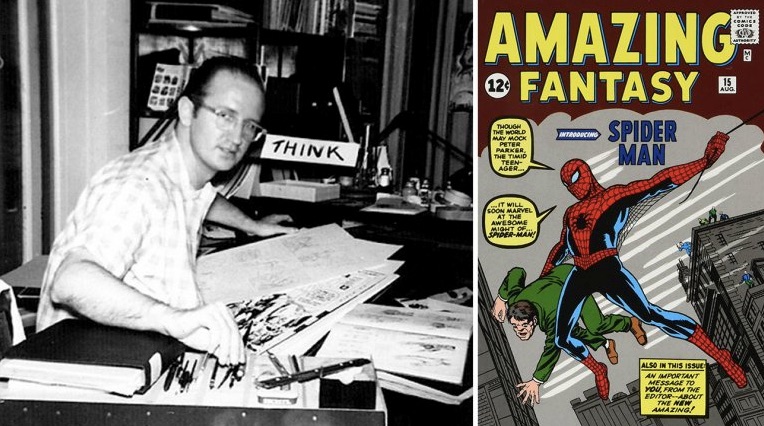 Steve Ditko, the pioneering comic artist who co-created Spider-Man and Doctor Strange, has died. He was 90 years old. From
The Hollywood Reporter
:
In 1961, Ditko and Lee created Spider-Man. Lee, the editor-in-chief at Marvel Comics, gave Ditko the assignment after he wasn't satisfied with Jack Kirby's take on the idea of a teen superhero with spider powers. The look of Spider-Man — the costume, the web-shooters, the red and blue design — all came from Ditko. Spider-Man first appeared in Amazing Fantasy No. 15. The comic was an unexpected hit, and the character was spun off into The Amazing Spider-Man. Ditko helped create such classic Spider-Man characters as Doctor Octopus, Sandman, the Lizard and Green Goblin. Starting with issue No. 25, Ditko received a plot credit in addition to his artist credit. Ditko's run ended with issue No. 38.

In 1963, Ditko created the surreal and psychedelic hero, Doctor Strange. The character debuted in Strange Tales No. 110, and Ditko continued on the comic through issue No. 146, cover dated July 1966.

After that, Ditko left Marvel Comics over a fight with Lee, the causes of which have always remained murky. The pair had not been on speaking terms for several years. Ditko never explained his side, and Lee claimed not to really know what motivated Ditko's exit...

The reclusive Ditko was known as the "J.D. Salinger" of comics. From the 1970s on, he rarely spoke on the record, declining almost every interview request. He sat out the publicity booms that accompanied the Spider-Man films and the Doctor Strange movie.
Without Steve Ditko there would have been no Spider-Man, no Doctor Strange, no Creeper, no Hawk and Dove, none of the black and white reprint comics I read in seaside resorts as a boy. No The Question (which means no Rorschach). No Mister A. No mystery.

— Neil Gaiman (@neilhimself) July 6, 2018