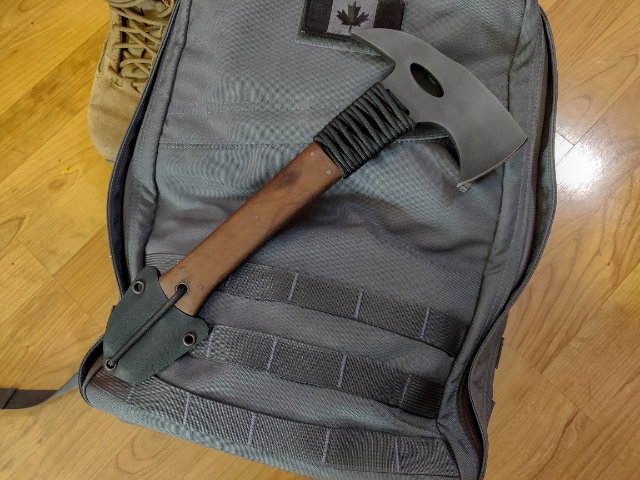 For years, I've kept a tomahawk on hand. It accompanies me into the bush, lives next to my side of the bed when we're staying in sketchy areas for protection, and has traveled with me to Costa Rica, Nicaragua, Spain, across Canada and the United States. As I live in a 40-foot RV, I consider it to be as vital a piece of safety gear as the fire extinguishers we keep in the front and rear of the vehicle.
A good tomahawk can be used to quickly breach walls, doors or windows – an important ability to have, if we ever find ourselves trapped in our rig in a way that keeps us from its only door and two escape windows. I tell anyone who asks me about it to keep one in their emergency preparedness kit or bugout bag: during Hurricane Harvey, some folks were only able to avoid flood waters by getting to their roof through a hole cut in it with an axe. Others weren't so lucky. What I'm getting at is while a tomahawk or axe is often seen as a weapon – some are, by design – they can also be used as a safety tool which, once you have one, you'll find countless uses for.
So, today for show and tell, I want to talk about my new tomahawk.
Last month, Daniel Winkler of Winkler Knives gifted me a Medic Axe—one of the new designs that he's recently churned out. It's a simple piece of cutlery, but damned if it isn't a piece of art.
First, let me get this out of the way. There is no way I could afford to buy one of Daniel's tomahawks or axes. Each one is crafted by hand and takes a few weeks to make. They're priced accordingly. Winkler Knives sells the Medic Axe for $650. I would be skinned alive for spending that much money on a tool in the life that I have now. 20 years ago? Different story. But the quality of the tool that you get for the asking price is exceptional. I've owned a lot of blades, axes and tomahawks over the years. Some were lost. Some were left behind. A number of them broke while being used. This tomahawk has a different feel and heft than anything I've ever handled. It smells different than anything else I've ever used. While there'll be hundreds of other Medic Axes made in the coming years, there's something very fine in the knowledge that this one was made just for me. Being as the goods I use are seldom bespoke, I don't know if this is a typical reaction to owning such an object. If you've got thoughts on this let me know.

The Medic Axe has a 6" head length with a blade thickness of 3/8". Overall, it's 13-3/4" long. It'd be a heavy carry, were it not for the fact that its full tang is both tapered and Skeletonzied: a design choice that maintains strength while reducing the tool's weight. The end of the handle comes with a 'can opener,' designed for punching holes in materials and manhandling them into bigger holes.
Just underneath its head, the handle is wrapped in paracord. It's a smart design decision in that, when you're chopping away at a door, wall, tree or whatever, there's a chance that the area underneath the head is going to see some wear and tear. Should the paracord section of the handle get messed up, the tool isn't ruined – you just swap the old paracord out for some new stuff. The paracord and the contours of the tang underneath it make holding the Medic Axe just underneath its head comfortable to do. This makes doing fine cutting work a whole lot easier, especially if you're using a tomahawk in place of a knife. As for the rest of the handle, there's a number of different scale materials that you could go with. Mine came with Maple scales. The wood's smooth, but not so smooth that it'll slip out of your hand while using it.
When I asked Daniel about how he finds a balance between functionality and aesthetics when he's designing something like the Medic Axe, he told me, "over the past 30 or so years I have found that if you follow function, form will easily follow. Also unnecessary embellishment that effects functionality can distract from the overall design flow." It's a philosophy that oozes through the axe's design.
I've had the opportunity to use it out in the bush a number of times since it came to me. Nothing dramatic: firewood collection, bushwhacking and the like. It hangs on my belt next to my bear spray. When I need it, the quick draw sheath (although it took some working in, initially) makes it easy to ready it for use. I'll be taking it with me on a very sketchy trip later this year (more on that once the details are firmed up), where I hope it won't find much use.
Even if all I end up doing is rubbing gun oil on its 80CrV2 steel to keep it from rusting, for the rest of my life, I'm so pleased to own this thing.