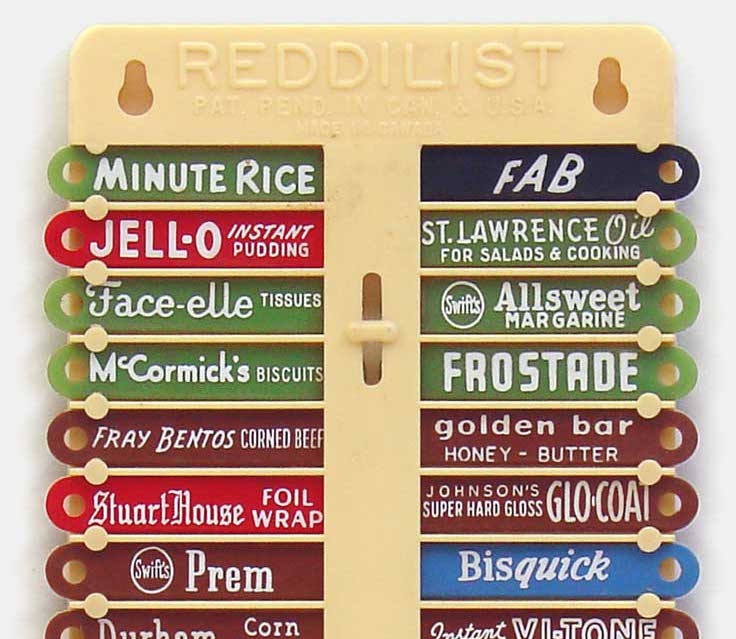 Back in the day, before Amazon and even before the internet, dash buttons took physical form in Reddilist, a handy little wall hanging for the kitchen or pantry with tabs for Instant Vi-Tone, Frostade, or Johnson's Glo-Coat.
Via Eric Wrobel:
Reddilist hangs on the kitchen wall and holds tabs with your "favorite" brands of household items imprinted on them. You slide the little tabs out and attach them to your keychain as a sort of shopping list when going to the store. It actually seems like a good idea but I wonder if people back then really had the time to fool with it rather than just writing down a list on paper. Maybe in Canada, where this was made, c.1960. Brands included on Reddilist (above) are Minute Rice, Jell-o Instant Pudding, Facelle Tissues, McCormick's Bisquits, Fray Bentos Corned Beef, Stuart House Foil Wrap, Swift's Prem, Durham Corn Starch, Blue Ribbon Pepper & Spices, Windsor Salt, Cherry Hill Cheese, Starlac, Gattuso Olives, Swift's Jewel Shortening, Libby's Frozen Foods, Glide Instant Liquid Starch, Purity Flour, Sweet Heart Toilet Soap, Colgate Ribbon Dental Cream, E. D. Smith's Pure Jams, Fab, St. Lawrence Oil for Salads & Cooking, Swift's Allsweet Margarine, Frostade, Golden Bar Honey-Butter, Johnson's Super Hard Gloss Glo-Coat, Bisquick, Instant Vi-Tone, Dr. Ballard's Dog & Cat Food, Betty Crocker Cake Mixes, Gerber's Baby Foods, Bee Hive Corn Syrup, Nabisco Shredded Wheat, Heinz Soups, Libby's Tomato Juice, Johnson's Pride No Rubbing Furniture Polish, OXO Beefy Cubes, Javex Liquid & Powder Bleach, Swift's Brown 'N Serve Sausage, and Rap Rite Waxed Paper.
Check out Eric's fantastic collection of retro goodies!