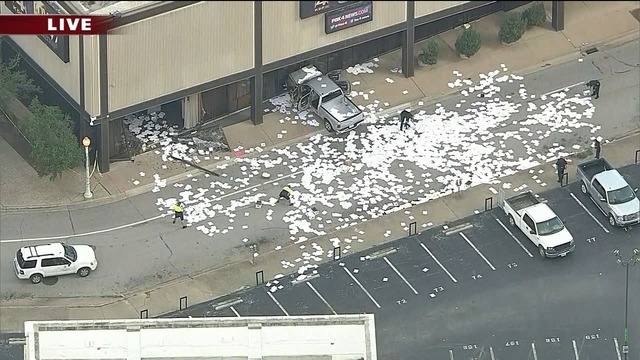 Fox News 4 in Dallas reports that a man crashed his truck into the side of its building at least twice "then got out and started ranting."
FOX 4 Reporter Brandon Todd heard what happened and went to investigate. He saw the man through a window.

"You could see the man's pickup truck, the front of it clearly smashed. One of our employees told me he ran into the side of the building, backed up and then ran into it a second time. When we went into the office we saw him and he was in the bed of his truck and he was throwing boxes into the street and then just grabbing handfuls of paper and throwing handfuls of paper into the street as well," he said.

Brandon took out his cellphone and started recording the man. When he realized he had an audience he grabbed a few pieces of paper, slammed them up against the window and started pleading his case.

"Originally when he was in the bed of the truck he was yelling out 'High treason! High treason!' As he got over to the window he was trying to explain something that involved the Denton County Sheriff's Department," Brandon said.
Screengrabs courtesy of Fox News 4.