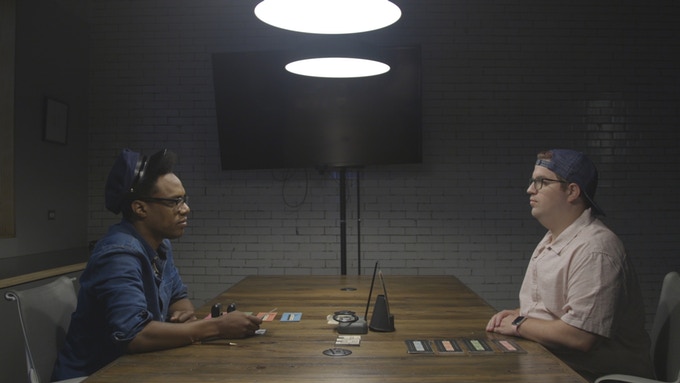 The creators of the fantastic game Secret Hitler are kickstarting a new 5-minute game for two players, called Inhuman Conditions. Inspired by Blade Runner, it's Voight-Kampff and the Turing Test as entertainment. One player takes on the role of an investigator and the other player is either a human or a robot who tries to convince the interrogator that they are a person. It looks like fun! I am backing it.
Robots must answer the Investigator's questions without arousing suspicion, but are hampered by some specific malfunction in their ability to converse. They must be clever, guiding the conversation in subtle ways without getting caught.

Humans may speak freely, but may find this freedom as much curse as gift. There are no right or wrong answers, only suspicious and innocuous ones, and one slip of the tongue could land Humans and Robots alike in the Bureau's Invasive Confirmation Unit. There, alongside Investigators who make improper determinations, they will await further testing ...
The design looks really cool, too: