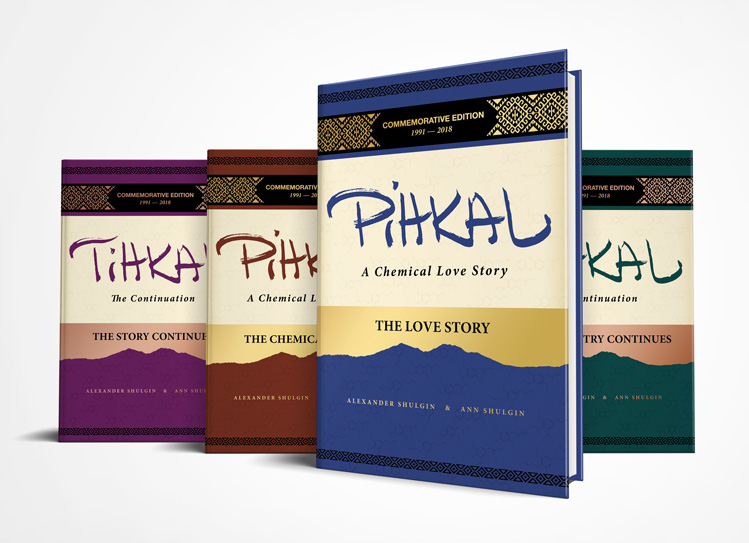 Sasha Shulgin died in 2014 after a lifetime as a psychedelic pioneer and brilliant chemist, but the books he and his wife Ann Shulgin authored were just as radical as the lab work. Commemorative editions of PiHKAL and TiHKAL are about to be released and you can get them signed by Ann and a dozen other luminaries of the psychedelic world next month in Berkeley.
Sasha Shulgin, inventor (in his lab in Lafayette) of literally 90+% of the known psychedelic compounds we enjoy today, and his wife Ann, wrote books Phenethylamines I have Known And Loved (PIHKAL) and Tryptamines I have Known And Loved (TIHKAL). The new commemorative edition of them has hundreds of candid photos (from Sasha as a boy to Ann & Sasha's courtship to photos of testing compounds, orange seventies couch and all) and a couple dozen essays from friends and colleagues. We're having a release party on 8 October at Moe's Books, and I hope to rock Ann's world with all the love from all the merry freaks whose lives they've improved over the years. It'll be an unusual opportunity to get the autograph of many of those luminaries all in one place, and Jon Hanna and David Presti will be speaking, as well as Ann, and we'll have a roundtable discussion with the contributors. Probably right up your alley and hopefully that of your readers as well.
Starts 7 p.m. until 10 p.m., Oct 8., at Moe's Books on Telegraph Ave.
Press release: Psychedelic Chemistry Cookbooks Reissued In Stunning Boxed Set