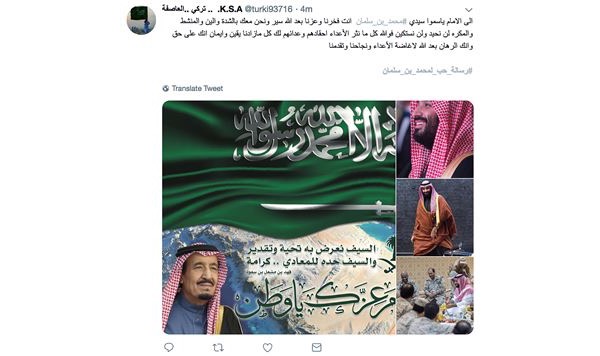 Twitter today pulled down a disinfo bot network that was amplifying pro-Saudi talking points about disappeared journalist Jamal Khashoggi, who is presumed to have been tortured and killed on orders of the government of Saudi Arabia.
NBC reports that Twitter became aware of the crisis Thursday, when an NBC News reporter presented the social media firm with "evidence of coordinated activity" in the form of "a spreadsheet of hundreds of accounts that tweeted and retweeted the same pro-Saudi government tweets at the same time."
You'd think by now Twitter would be ahead of such things, rather than reporters alerting them with the smoking gun. You'd be wrong.
This is all pretty nuts to read. I noticed intense, seemingly coordinated pro-Saudi activity on Twitter starting Monday of this week, and I wasn't the only one talking about it and suspecting a state-sponsored campaign. Now we know more.
Excerpt from the NBC News report by Ben Collins and Shoshana Wodinsky:
The list was compiled by Josh Russell, an Indiana-based information technology professional who has previously identified foreign influence campaigns on Twitter and Reddit.

A Twitter employee, who asked not to be identified because the employee was not authorized to speak publicly, said the company was aware of the influence operation and had already suspended even more pro-Saudi government accounts before they were caught by researchers. The employee said the accounts are being pulled down for violating rules about spam, and referred to it as a routine spam operation takedown.

Twitter has moved to crack down on bot networks in recent months, claiming to have purged millions of fake accounts.

Ben Nimmo, a senior fellow at the Atlantic Council's Digital Forensics Lab, which tracks online misinformation, said the way the bots operated allowed them to "fly under the radar," highlighting how the groups behind Twitter bots have adapted to evade bans.

"They're posting the same stuff at the same time repeatedly — that's a botnet," Nimmo said. "Looking at these accounts, they're all posting the same content in the same order."