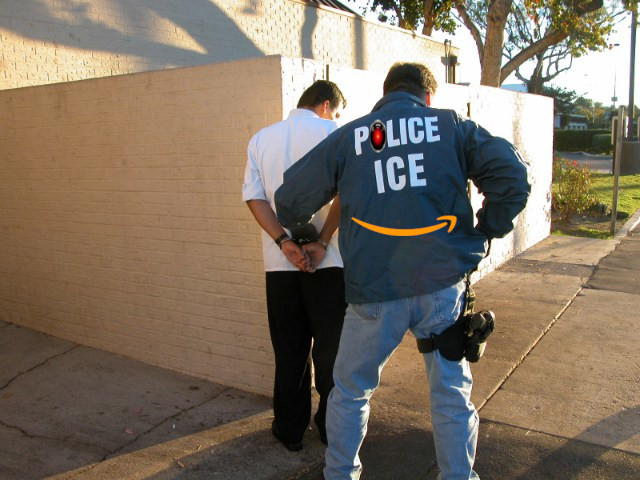 Despite an uprising of Amazon employees over the use of the company's AI facial recognition program ("Rekognition") in law enforcement, the company is actively courting US Immigration and Customs Enforcement in the hopes that it will use the wildly inaccurate technology.
Thanks to work by McKinsney, ICE and Amazon's sales team met over the summer to discuss how Amazon's facial recognition could help the agency, which has cemented its reputation for performative xenophobic cruelty with a program of stealing babies from immigrant parents, dooming thousands of babies and children to never see their parents again.
ICE could use facial recognition as part of its illegal surveillance of medical facilities and houses of worship.
Amazon founder Jeff Bezos recently described his pro-immigration views ("I'd let them in if it was me, I like 'em, I want all of them in").
In an email to ICE's Homeland Security Investigations (HSI) office dated June 15, 2018, an Amazon "sales principal" described the meeting and spelled out follow-up "action items." One was setting up a tech briefing for ICE officials about tools including the tagging and analysis capabilities of Amazon's real-time facial matching system, dubbed "Rekognition."

"Thanks again for your interest in AWS [Amazon Web Service] to support ICE and the HSI mission," the Amazon salesperson wrote.

The email lists "actions items from our conversation," starting with an "Innovation Workshop focused on a big HSI problem," but does not describe the problem. Regarding that problem, the Amazon employee wrote, "I would be happy to arrange for a 1 day workshop. If there's interest in further exploration, we can schedule a meeting to review the process in more depth and help assess your target list of 'Challenges'." The list includes "Rekognition Video tagging/analysis, scalability, custom object libraries."
Amazon Pushes ICE to Buy Its Face Recognition Surveillance Tech [Jake Laperruque and Andrea Peterson/The Daily Beast]