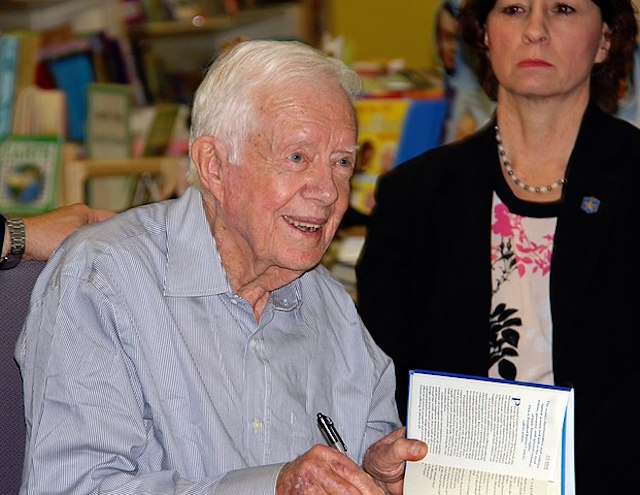 Today Jimmy Carter, a former US President who also served as Governor of Georgia, has called for Georgia Secretary of State Brian Kemp's resignation. Kemp is accused of viciously robbing Georgians of their right to vote.
Conveniently, most of the people Kemp is accused of disenfranchising are in demographics largely assumed to be voting for his opponent.
Via NPR:
In his letter to Kemp, Carter said it was his decades of experience assisting elections abroad that persuaded him to wade into the bitter dispute now roiling the Georgia gubernatorial race. Kemp has been under fire for deciding to purge tens of thousands of voters from the voter rolls — months after declaring his intent to run for governor.

"In Georgia's upcoming gubernatorial election, popular confidence is threatened not only by the undeniable racial discrimination of the past and the serious questions that the federal courts have raised about the security of Georgia's voting machines, but also because you are now overseeing the election in which you are a candidate," wrote Carter, who served as Democratic governor of Georgia himself before winning the presidency in 1976.

"This runs counter to the most fundamental principle of democratic elections — that the electoral process be managed by an independent and impartial election authority."

Carter is far from the only prominent figure to raise concerns about Kemp's role as both candidate and referee in next week's election — and last year's voter purge is not the only move that has gotten Kemp embroiled in controversy.

An APM Reports investigation found that removals have spiked during Kemp's tenure overseeing Georgia's election process. More than 1.6 million names were removed from the state's rolls in the past decade, including his eight years in office.

And a half-dozen civil rights groups recently sued the secretary of state over the delay of some 53,000 voter registration applications, which his office has placed on hold citing questions about the applicants' citizenship status. According to the AP, nearly 70 percent of those pending registrations came from African-Americans.