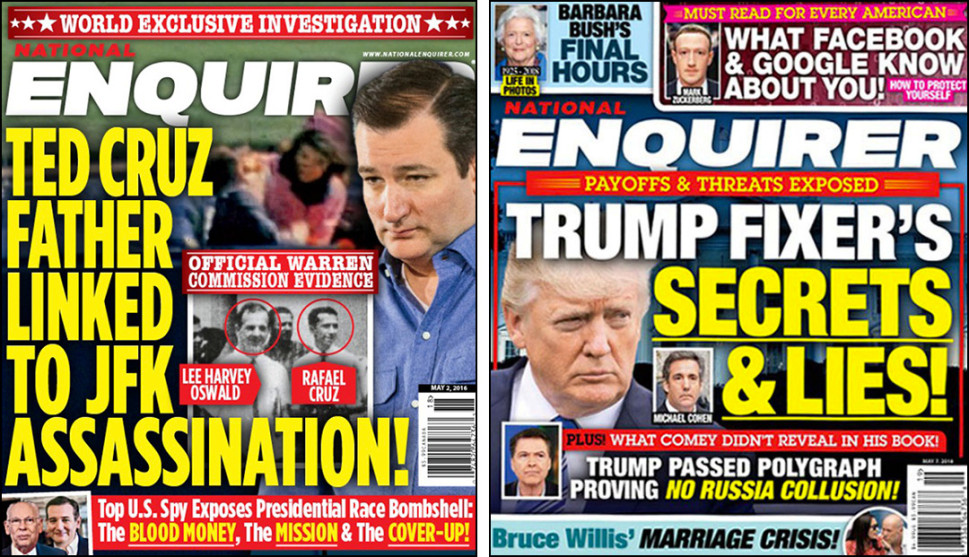 The Wall Street Journal [paywall] just published a major expose revealing "several previously unreported instances in which Mr. Trump intervened directly to suppress stories about his alleged sexual encounters with women." The Wall Street Journal interviewed "three dozen people who have direct knowledge of the events or who have been briefed on them, as well as court papers, corporate records and other documents." Trump has lied on several previous occasions about the payoffs, saying he played no role in them.
The article reports that Trump met with National Enquirer publisher David Pecker and the two struck a deal to pay hush money to women who wanted to publicize their alleged sexual affairs with Trump.
Less than a year later, Mr. Trump asked Mr. Pecker to quash the story of a former Playboy model who said they'd had an affair. Mr. Pecker's company soon paid $150,000 to the model, Karen McDougal, to keep her from speaking publicly about it. Mr. Trump later thanked Mr. Pecker for the assistance.
The Wall Street Journal obtained an audio recording of a conversation between Trump and his then-lawyer, Michael Cohen, which reveals Trump's sense of loyalty towards people who go out of their way to help him:
As Mr. Cohen explained his plans, Mr. Trump spoke over him: "So, what are we gonna pay… One-fifty?" Mr. Trump asked. Mr. Cohen paused and replied, "Yes."

Mr. Cohen said he would be getting "all the stuff," meaning the other files on Mr. Trump he had been seeking. They discussed the uncertainty about what might become of the files if Mr. Pecker no longer ran American Media. "Yeah, I was thinking about that," Mr. Trump said. "Maybe he gets hit by a truck."
Federal prosecutors have gathered evidence of the president's participation in transactions with porn stars and models that violated campaign-finance laws, per this WSJ story. https://t.co/cvpT5Tv5AG

— Josh Dawsey (@jdawsey1) November 9, 2018
WSJ: When Cohen pleaded guilty, prosecutors filed a document asserting that he "coordinated with one or more members of the campaign...about the fact, nature, and timing of the payments." The unnamed campaign member or members referred to Mr. Trump.https://t.co/1LXDuARxyU

— Kaitlan Collins (@kaitlancollins) November 9, 2018
If you really think Trump was intimately involved with the minute details of paying off former mistresses via his lawyer Michael Cohen, but was kept wholly in the dark by Cohen and others about their efforts to collude with Russia, well you're just not *thinking* at all, are you?

— Seth Abramson (@SethAbramson) November 9, 2018