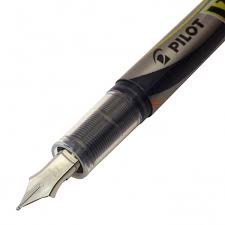 Every year or so I buy another 5 pack of these Pilot Varsity disposable fountain pens.
I keep these in my travel bag. Unlike refillable fountain pens, of which I have far too many, these do not dry out if forgotten in the pocket of a jacket. They do not leak when airplane cabins pressurize. My hands stay clean and lack the telltale mark of ink on my middle finger that fountain pen travel usually engenders.
They write just fine.
Pilot V Pen (Varsity) Disposable Fountain Pens, Black Ink, Small Point Value Set of 5 via Amazon