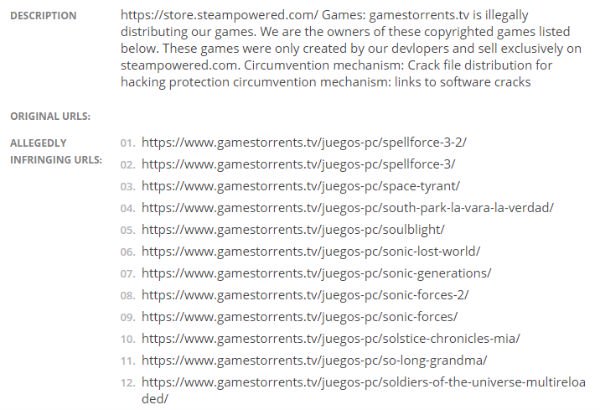 When a rightsholder complains to Google about a website infringing its copyright, Google will generally delist the site, but allow the site's owner to contest the removal through a process defined in Section 512 of the DMCA.
But when Google gets a complaint about DRM-breaking tools, which come under Section 1201 of the DMCA, they remove the accused site and offer no appeal process -- it's permanent.
Malware authors have been serving Google with DMCA 1201 notices, in which they impersonate Ubisoft, Steam and other large game companies. These notices target pirate sites that distribute cracked versions of games, and when the malware authors get them taken offline, permanently, their own sites rise in Google's search rankings, advertising the same cracked games, but these oneshave been poisoned with malware.
After some negative publicity, Google has reinstated a few of the sites. Google correctly says that DMCA 1201 doesn't provide any appeal process, but that doesn't mean that the company has to honor obviously fraudulent notices.
Google revealed that this "Ubisoft" sent notices from suspicious Gmail addresses, using a Russian user interface, from an unidentified Ukrainian IP-address. In addition, the handle used in one of the email addresses can be linked to game-related spam, which doesn't build any confidence either.

The site owner shared his findings with Google but the company repeatedly said that there is no option to file a counter notification.

This is because the notices are not regular DMCA takedowns. Instead, they are notifications that the URLs circumvent technological protection measures such as DRM, which is separately covered in the DMCA.

"Google has been notified that the following URLs distribute copyright circumvention devices in violation of 17 U.S.C. § 1201," Google informed the site owner.

"Please find attached the notice we received. There is no formal counter notification process available under US law for circumvention, so we have not reinstated these URLs. If you dispute that you are distributing circumvention devices, please reply with a further explanation."
Scammers Hit Pirate Game Sites With 'Irreversible' Google Takedowns [Ernesto/Torrentfreak]