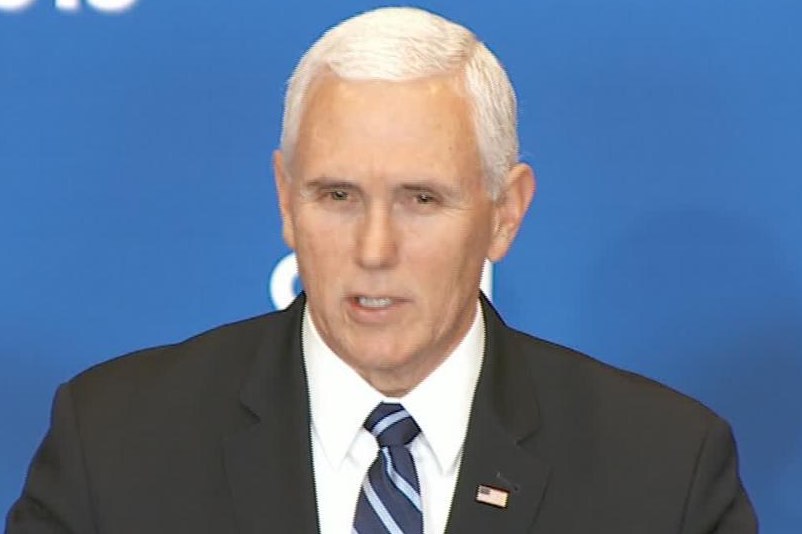 "The vice president will essentially call out Iran for their actions. He will give a message to those groups that are there, that, you know, if you stand with us, we'll stand with you," a White House official said.
Conservative Christian and expressionless piece of furniture man Mike Pence, who is currently the Vice President of the Trump Administration, plans to visit the Auschwitz-Birkenau death camp site on Friday, and tour a memorial to Jewish detainees who were murdered there by Nazis in occupied Poland.
Pence's European trip will focus on Donald Trump/John Bolton's idea that Iran is the source of all Middle East turmoil.
From the Washington Post, recapping a White House press briefing held today:
Pence will tour the site in southern Poland, with Polish President Andrzej Duda, a senior White House official said Monday. It will be Pence's first visit to the infamous prison camp operated by Nazi Germany during World War II. Portions of the camp where an estimated 1.1 million people died are preserved as a museum and memorial.

Pence will be in Poland this week for a joint U.S.-Poland conference on Middle East peace and security. He also will hold defense meetings in Poland as the Pentagon considers a potential permanent base for U.S. forces in the country.

Pence, a conservative Christian, is among the Trump administration's strongest supporters of Israel. He plans to meet with Israeli Prime Minister Benjamin Netanyahu when both are in Warsaw for the Mideast conference.

Pence and Netanyahu will tour a memorial to the 1943 Warsaw Ghetto uprising, in which Jewish residents resisted Nazi efforts to deport remaining inhabitants. Nazis crushed the uprising after about a month, and Jews were deported.