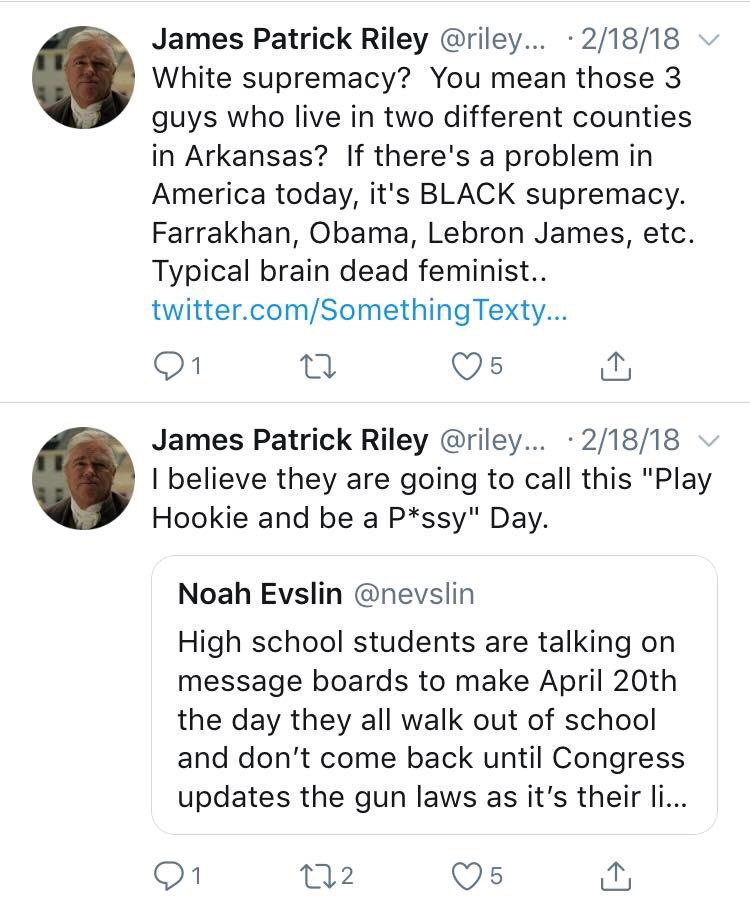 Riley's Farm is a staple of Los Angeles overnight school trips (my daughter visited last year with her elementary school); it's an apple farm with a pick-your-own apples sideline that branched out into civil war re-enactments, with some students staying overnight in tents.
The farm's owner, James Riley, uses his Facebook and Twitter accounts to air Trumpian political views that complain about "black supremacy" ("If there's a problem in America today, it's BLACK supremacy. Farrakhan, Obama, LeBron James, etc"), nonbinary gender identity, etc.
As news of Riley's political beliefs spread, parents in the Claremont Unified school district asked that their kids not be brought into contact with him. Claremont Unified decided not to bring their students back to Riley's Farm, sending Riley a letter that explained that they had "no obligation to expose children to an individual who engages in these crude and tasteless comments."
Riley has sued Claremont Unified and various officials (trustees, principals and a superintendant), seeking $10m in damages for violations to his 1st and 14th Amendment rights. Other school districts are investigating whether they will continue to send their students to Riley's Farm, and Riley has pledged to "[put more] fear in public officials."
Riley attends Tea Party rallies dressed as Patrick Henry and gives political speeches. He has called himself a "conservative Christian strawman that has to be burned in public." He says that his political beliefs do not influence the historical re-enactments at his farm.
Riely's court filings say that his farm brings in $4.2m/year, with half of that coming from school groups. He's said he will sell his farm to fund appeals.
Barry P. McDonald, a Pepperdine University law professor who teaches a course on the 1st Amendment, thinks Riley's case is "interesting" but probably a "loser."

"The court would likely say the government's job is to teach kids appropriate values," he said. "In [Riley's] instance, to force the school district into a business transaction where such offensive things are being tweeted, would be inimical to the school's intent to teach respect and tolerance for others."
A school district found out about an apple farmer's controversial tweets. He sued when they canceled their field trips [Gustavo Arellano/LA Times]
(via Super Punch)