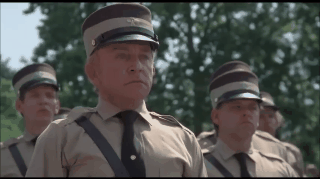 The National Socialist Movement is one of America's oldest and most influential Holocaust denial/neo-Nazi movements, proprietors of one of the world's most prominent Holocaust denial websites and defendants in a case over members who participated in racist violence at the Charlottesville "Unite the Right" rally.
James Hart Stern is a Black civil rights activist who has previously -- through very unlikely circumstance -- become head of a prominent KKK organization, which he took over in order to dissolve it. Stern was able to do this because he became a confidant of former Ku Klux Klan Grand Wizard Edgar Ray Killen while they were cellmates, while Killen was imprisoned for murder and Stern was imprisoned for mail fraud. Killen ended up giving Stern power of attorney, which Stern used to take over the Klan and shut it down.
Jeff Schoep was the longterm president of the NSM, credited with reinvigorating it and growing it. He became acquainted with Stern through Stern's connection to Killen. He claims that he sought Stern's advice on his legal exposure from the Unite the Right suits, and that Killem convinced him that he should sign over control of the NSM to him in order to protect himself, and that Stern tricked him into signing over control.
According to Stern, Schoep was worried that NSM was riddled with "the most vulnerable, the most loose-cannon members that they had ever had in the organization" and that "somebody was going to commit a crime, and he was going to be held responsible for it." Stern says Schoep also felt unappreciated by the membership.
Once Stern took over the organization, he sought advice from Jewish leaders as to how best to use his new powers.
Stern has now acted: he has intervened in the pending litigation against NSM to ask that the judge find the group and its members guilty and punish them all accordingly (including Schoep). Next, he says he will transform the group's Holocaust-denial clearinghouse into a resource center for Holocaust remembrance. And he's offered control over the logins and passwords for NSM's social media accounts to the attorneys for the anti-racist activists who are suing NSM.
Though Schoep is no longer legally affiliated with NSM, he still faces the lawsuit because he is listed as a defendant in an individual capacity.

"It's definitely not good for him, and it shouldn't be good for him," Stern said. "You spend 25 years terrorizing people, you can't rebrand overnight. It doesn't work like that."

From California, where he runs Racial Reconciliation Outreach Ministries, Stern is still sorting through the legal intricacies his new leadership entails. He is currently listed as the attorney representing NSM in court filings, but a judge ruled Friday that he cannot be NSM's lawyer because corporations are not legally authorized to represent themselves in court.

Stern said he is working on hiring an outside lawyer to refile his motion for a summary judgment on the lawsuit. He has also offered the plaintiff's attorneys full access to NSM social media accounts, he said — because he claims to own those now, too.

"Say what you want about me," Stern said. "But I've done this twice now."
How a black man 'outsmarted' a neo-Nazi group — and became their new leader [Katie Mettler/Washington Post]